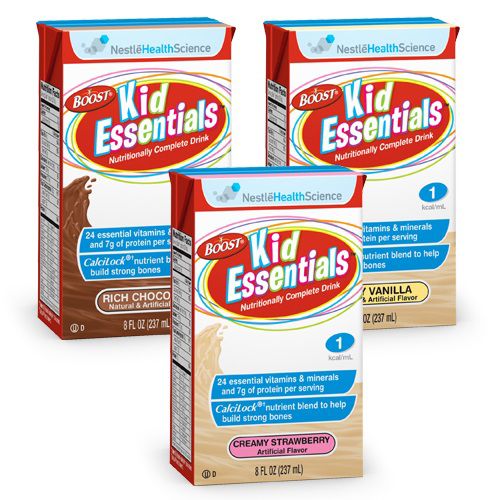 Boost Kid Essential vs. Pediasure
Motherhood is a fulfilling journey yet very challenging. Starting from the famous morning sickness, fatigue, and then labor. But the work doesn't end with giving birth. You may have to spend several nights awake trying to put your little one to sleep until they grow into a toddler.
Unfortunately, toddlerhood is not easy too. This stage comes with a strong dislike for food. And most kids above one year tend to be picky eaters. The situation can be worse when your little one becomes sick. And here is when nutritional supplements come in to save you and make parenting easier.
Speaking of nutritional supplements, there are so many competing brands out there. Lucky for you if you're looking for the best nutritional supplements for your kid. Because this article discusses Boost Kid Essential and Pediasure, two major supplement brands, stay locked.
Boost Kid Essential vs. Pediasure: Overview
Boost Kid Essential is manufactured by Nestle Health Science and relies on biotechnology and genomics developments to formulate its products. This supplement comes in three flavors and contains numerous minerals, vitamins, and proteins. It's best suited for 1-13 years old.
Pediasure is designed for children who need support during their growth and development stages. It comes in six flavors and contains numerous vitamins, minerals, and protein. Pediasure is lactose-free and ideal for children suffering from lactose intolerance.
About Boost Kid Essential
Boost Kid Essential Balanced Nutritional Drink is a favorite among kids. This supplement contains 25 essential nutrients and is pretty affordable. Boost Kid Essential is usually advertised as "sole-source or supplemental nutrition." However, most customers and healthcare professionals suggest taking it with a healthy meal or snack.
This supplement focuses on bringing malnourished kids and those suffering from inadequate food intake on the right track. What's more, this uniform blend is good for your child's increased energy needs to have a good weight. Boost Essential Kid supplement consists of 7g of proteins, vitamin D, and large amounts of calcium, providing children with a healthy and strong build.
A carton comprising 240 calories is ideal for children with lactose intolerance and moms who wish to keep their kid's diet gluten-free. Boost Kid Essential does not contain soy ingredients, and high-fructose corn syrup thought to induce diabetes.
Regardless of all the positives and health benefits of this supplement, Boost Essential Kid has received much backlash. Nestle's claim about the straw-containing probiotics has been debunked. The new packaging replacing the straw, too, has issues. Some parents say the new packaging makes the drink prone to spills, while others have complained about leaks and mold under the cap.
Pros Of Boost Kid Essential
Taste great, even among picky eaters.

Does not contain lactose and gluten.

It's cost-effective.

Good for maintaining weight, improving immunity, and strengthening bones.

Contains natural flavors, preservatives, and colors.

Doesn't contain unhealthy high fructose corn syrup.
Cons Of Boost Kid Essential 
It cannot be used as a sole source of nutrition.

False packaging claims and the new package is not spill-proof.
About Pediasure
Pediasure Grow and Grain Shake is a ready-to-drink supplement that helps children catch up on growth in 8 weeks. This supplement comes in many varieties like Organic, Shake Mix, Side Kicks, and Fiber. There are also many flavors, chocolate, vanilla, S'mores, etc., that even picky eaters may not resist.
Pediasure contains 27 essential vitamins and minerals, 7g proteins, and 32mg DHA-omega 3 fatty acids that reduce inflammation, assist in weight gain, offer immune support, and provide nutrition.
This supplement doesn't contain gluten or lactose and is therefore ideal for kids with gluten or lactose intolerance. It's also halal and kosher-certified, without artificial growth-boosting hormones. Kids can take the supplement as a complete meal, sole-source nutrition, or snack.
As with anything, Pediasure has its drawbacks too. The soy and fiber present has been reported to cause gastrointestinal issues. The high sugar amounts can also lead to dental cavities and excess weight gain. Pediasure is also not recommended for people with cow milk allergies.
Pros Of Pediasure
It comes in various flavors and many ways to incorporate into your child's diet.

DHA Omega 3 provides additional benefits for the heart, brain, and vision.

Limits weight loss due to infection.

Offers quick positive results in kids with stunted growth.
Cons Of Pediasure
It's expensive.

It may not suit all children due to artificial flavors, soy, and fiber which can cause gastrointestinal problems.
Differences Between Boost Kid Essential And Pediasure
Soy Ingredients
Soy is not normally a risk or cause common allergy in children. However, it can lead to nausea, bloating, and other gastrointestinal problems when taken daily or in large amounts. Boost Kid Essential doesn't contain any soy ingredients. Unfortunately, Pediasure contains soy protein isolate and should be taken as per the doctor's instructions.
Recommended Age
Boost Kid Essential and Pediasure are suitable for toddlers, but there's a slight difference. Nestle recommends Boost for kids aged 1-13, whereas Pediasure is not recommended for early toddlers but kids aged 2-12. And the best growth and development results are seen in 3-5 year-olds.
Beneficial Features
DHA is an essential fatty acid found in seafood that's not usually among many children's favorite foods. This fatty acid is an exclusive nutrient in Pediasure but absent in Boost. It enhances good eyesight, lowers cholesterol, promotes healthy brain development, and reduces asthma risk.
Probiotics are found in Boost and Pediasure but come in a higher dose in Pediasure Grow and Gain. And unlike Boost, which doesn't contain prebiotics, Pediasure contains prebiotics, ensuring healthy gut bacteria, good metabolism, and disease prevention.
However, if your kid has a cow milk allergy, you may want to ditch Pediasure. And instead, go for Boost Kid Essential, which is a good alternative.
Conclusion
With that said, both supplements are a good choice for parents concerned about their kids' nutritional supplements. The choice between Boost and Pediasure depends on which diet you prefer, your child's body's specific needs, and the flavor they like.
Boost Kid Essential comes in three flavors, is pretty affordable, lactose and gluten-free, and doesn't contain soy ingredients or artificial flavors. However, it does not contain DHA and prebiotics.
Pediasure is equally good, comes in six flavors, contains DHA and prebiotics, and is gluten and lactose-free. However, it's at a higher price and contains artificial flavors and soy ingredients.