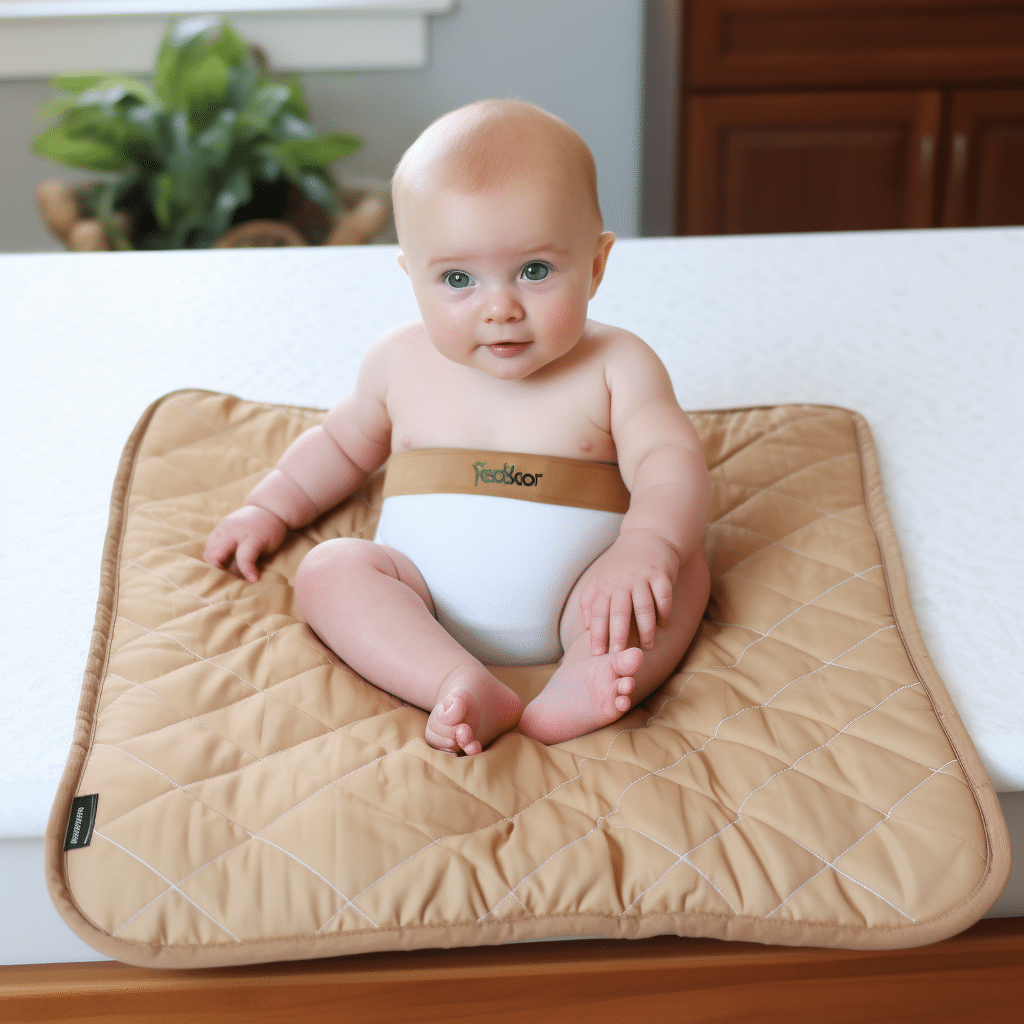 Bamboo Changing Pad vs. Keekaroo: Comparison Guide

When your infant or toddler needs a diaper change, you need a comfortable changing surface. Bamboo changing pad and keekaroo are examples of such pads. They are suitable for babies from 0 months to 2 years, as this is the age that babies need a diaper change. The benefits of using a changing pad include; being easy to clean, portable, a great addition to the nursery, and helping maintain nursery cleanliness. In this article, we look at the difference between these two changing pads.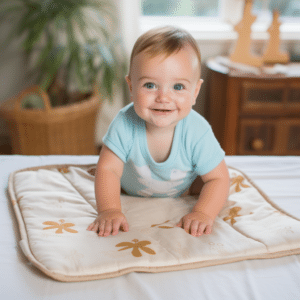 Bamboo Changing Pad
The bamboo changing pad is a soft, comfortable changing pad made by the Kushies. It provides an excellent changing space for infants and babies from 0 to 24 months.
Features Of Bamboo Changing Pad
It is comfortable and soft, made of 30% rayon and 70% polyester.

It is highly absorbent. It contains soft silky-like padding.

It is reusable and durable.

It is anti-skid and prevents the child from falling off during diaper change.

It is machine washable and dryer friendly. 

The pad cover is made of viscose that is breathable and easy to clean.

It provides extra protection. 

The pad is eco-friendly and waterproof. 

It is made of soy-based, polyurethane foam that is non-toxic and safe for use by children.

The fabrics are free from phthalate, formaldehyde, and lead. It is, therefore, eco-friendly and does not produce toxins that are harmful to the environment.

The pad has Eco TPU and vinyl-free material that is eco-friendly. 

It is breathable and allows air circulation during a diaper change. With air circulation, it discourages the growth of molds and bacteria, making it a healthy choice for your infant.

The bamboo pad is contoured and will hold even the most wriggly baby during a diaper change. 

It consists of safety straps that help hold the baby in place in case your baby is one of those who can't stay still during a change. 

Bamboo is a natural material that is hypoallergenic and antibacterial.

It has a zipped cover that is easy to remove and wash. 

The standard dimensions are 4.5 *16.5* 32 inches in height, width, and length.

Suitable for children between 0 months to 2 years. 

It is less costly compared to keekaroo changing pads. 
Downsides Of Bamboo Changing Pads
The main downside of the bamboo changing pad is durability. It is not as durable as keekaroo. A customer review on Amazon also showed that some of them are thinner than advertised. 
How To Clean Bamboo Changing Pad
To clean the bamboo changing pad, unzip the cover and remove it. Throw it in the washing machine and dry. You do not have to clean the entire changing pad. 
Keekaroo
Keekaroo peanut diaper changer is a synthetic-free changing pad made in the US. Unlike many other changing pads, it does not require pads or linings. You just place the baby on the surface and change them. 
Features Of Keekaroo Changing Pad
It is easy to clean. The surface is wipeable. 

It is water-resistant. The disadvantage with this is that when a baby pees when changing, the pee stands on the pad until you wipe it away. The surface is not absorbent. 

The material used to make the pad is soft to touch and comfortable for the baby.

It is crack and puncture-resistant-free. 

It is eco-friendly and is BPA, PVC, latex, and phthalate-free. 

It is a flame retardant.

Keekaroo changing pad does not require pad lining and covers. 

It is a solid shell that does not slip during a diaper change. 

It is easy to disinfect and thus limits bacteria and mold growth making it healthy for the child's use. 

 It is portable

Keekaroo pad is durable.

It can hold a child up to 150lbs.

It is JPMA-certified and safe for children's use.

It allows an infant insert.
Cons Of Keekaroo Peanut Changer
The downsides include; 

It usually gets cold and can be uncomfortable to change a child during cold seasons. To counter this, you can use a liner or changing cloth. 

It is more costly compared to bamboo changing pads.

It is heavier than a standard changing pad. 

The bright-colored keekaroo stains easily. With no cover or liner when the changing pad comes into contact with pee, it can get stained easily. To prevent this, you can consider getting a dull color. 
How To Clean Keekaroo Peanut Diaper Changer
Keekaroo is impermeable to fluids. To clean it, remove the solid wastes if any. Then fill a sink or large container with warm water and soap. You could also use a child skin-friendly disinfectant. Immerse the keekaroo in the water and wash with a soft fabric. Alternatively, you could wipe it with a soft cloth and warm soapy water.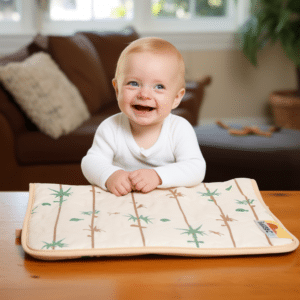 Tips On How To Use A Changing Pad Safely
They include;
Get everything ready before you start the process. 

Never leave a child unsupervised on a changing pad. When picking up something, make sure one hand is on the child, or better still, place them in a safer place. 

Place the changing pad on a firm surface. Avoid high places such as kitchen tops. High heights increase the risk of accidents and injuries. 

Keep your changing pad clean. Ensure you wipe it often with warm soapy water or disinfectant. For those with removable covers, wash them often. 

Do not use chemicals that might irritate the baby's skin. It should be mild. 

Avoid spreading waste from one place to another. This could spread germs from one area to another. It is harmful to your child and the entire household. 
In conclusion, bamboo changing pads and keekaroo are diaper-changing surfaces for children between 0 to 2 years. The bamboo requires covers and pads and is cheaper compared to the keekaroo. On the other hand, the keekaroo is water resistant and does not require a pad or cover but is more costly.