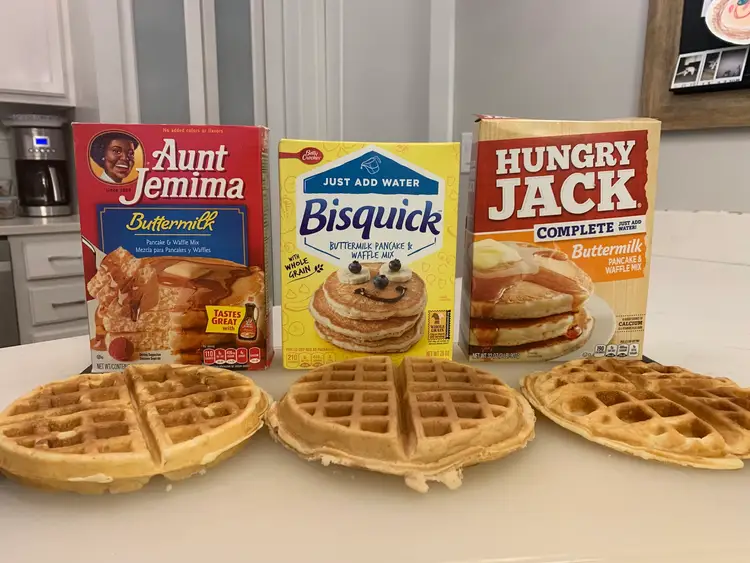 Aunt Jemima Waffle Recipe
Sometimes you don't feel like cooking an elaborate meal requiring various ingredients and need something delicious and filling that can be ready in no time. This is where Aunt Jemina Waffles comes in. These waffles are delicious, crispy on the outside, and fluffy on the inside.
You can prepare Aunt Jemima Waffles in a pinch and pair them with almost anything, from fruit and cream to bacon. This article discusses preparing Aunt Jemima Waffles with essential ingredients at home.
Aunt Jemima Waffles Recipe
Aunt Jemima has provided some of the best waffles for over 100 years. Waffles are fun to make, but preparing them from a good waffle mix makes the process easier and more convenient.
With all the dry ingredients handled beforehand, you can make yourself a delicious breakfast with minimal preparation. Here's what you'll need for this recipe:
1 cup of Aunt Jemima waffle mix

¾ of a cup of whole milk

One egg

Two tablespoons of oil

A small amount of butter for the pan
Procedure
Preheat the waffle iron and add a little butter to prevent the mixture from sticking. Use a waffle pan if you don't have a waffle iron.

As the waffle iron is heating, combine the ¾ milk with one egg, two tablespoons of oil, and a cup of Aunt Jemima's waffle mix into a bowl.

Stir the mixture thoroughly until all the ingredients are well combined. Set aside for a few minutes.

Pour the batter into the waffle iron until full and close the top. Cook until the indicator shows it's done.

In case your waffle iron doesn't have an indicator, check the steam being released. If the steam stops, your waffle is done, and you can remove them from the iron.

Repeat the process until all the batter is finished.

This recipe should yield around eight waffles, depending on your waffle iron's size, serving eight people.

Serve and enjoy.
Recipe Tips
Keeping your waffles warm

– unless you have numerous waffle makers, it takes pretty long to cook multiple waffles. So, how do you keep your waffles warm and toasty as you finish the rest of the batter?
The best way to do so is to keep them in an oven preheated to 250 degrees Fahrenheit; that's the perfect temperature to keep your waffles warm and crisp. Alternatively, you can reheat them in the toaster. Just pop them in the toaster, and you're set. They'll be crisp and warm again.
Extra crispy and fluffy waffles

– separate the egg whites from the yolk. Beat them until they're stiff, and fold in the batter. This is an extra step, but it will make your waffles super fluffy and crisp.

Avoid using pancake mix –

don't use pancake mix to make waffles, as the two are not the same. The pancake mix is fluffy and super light. On the other hand, the waffles mix is denser and not as airy, making waffles crisp.
Recipe Variations
Here's how you can start the play and get creative with this recipe:
Banana

– if you don't consume eggs or would rather not have them in your waffles, you can substitute them with bananas. Mash ½ cup banana or puree it if you have a blender and add it to the milk and waffle mix.
This will create a beautiful waffle texture and add an intrinsic banana flavor to your waffles.
Milk Alternative

– if you don't consume dairy, there are a couple of non-dairy milk substitutes to pick from. Soy, nuts, oat, rice milk, or even water can work. Each of these will add a unique flavor to your waffles.

Coconut oil

– coconut oil is healthier and better for your body. It will also give your waffles a light coconut flavoring. So, if you want to up your waffle game, try using coconut oil.

Applesauce

– this is another excellent oil substitute that will give your waffles a slight apple flavor. Applesauce works great if you serve your waffles with butter on top.
What To Serve With Aunt Jemima Waffles
Aunt Jemima waffles are best served with the following:
Maple syrup –

is the most common topping people use on their waffles. Maple syrup is a traditional classic that offers a little sweetness and richness to perk your morning meal and can be especially helpful when you can eat it guilt-free as a treat.

Butter

– if you're not a fan of sugar, dabbing a knob of butter on your warm waffles can do. This is an excellent option for those looking for something a bit savory yet safe and traditional.

Berries

– when heavier choices don't fit you, berries will lighten up your meal and present it more healthily. Blueberries, strawberries, cranberries, and blackberries are all tremendous and taste incredible, especially if you add a little whipped cream.

Peanut butter

– although less common, peanut butter will add a delicious flavor to the hot waffles when it melts, giving them a thick and creamy feature.
How To Reheat Aunt Jemima Waffles
You can easily store and reheat waffles if you end up with more than what you can finish in one sitting. When reheating, your goal should be to retain the crispy outside and prevent them from becoming soggy. Here's how you can reheat Aunt Jemima waffles:
In The Oven
Preheat your oven to 300 degrees and place your waffles on a baking sheet. Cook for 10 minutes if from the fridge and 15 minutes if they're from the freezer.
In A Microwave
Place your waffles in a microwaveable dish and heat them for a minute. Remove them and check if they are warmed through. If not, return them and heat them for another 30 seconds, and you'll be done.
In An Air Fryer
Preheat your air fryer to 350 degrees. Place the waffles in a frying basket and cook for 2 to 3 minutes. Your waffles will come out nice, crispy, and hot. If you want extra crisper, add a little butter before placing them in the air fryer.
Conclusion
Aunt Jemima waffles are a perfect way of enjoying an effortless breakfast or brunch your family will love. And the best thing about them is that you can have them with any of your favorite toppings. So, get creative and enjoy these crispy and fluffy waffles.