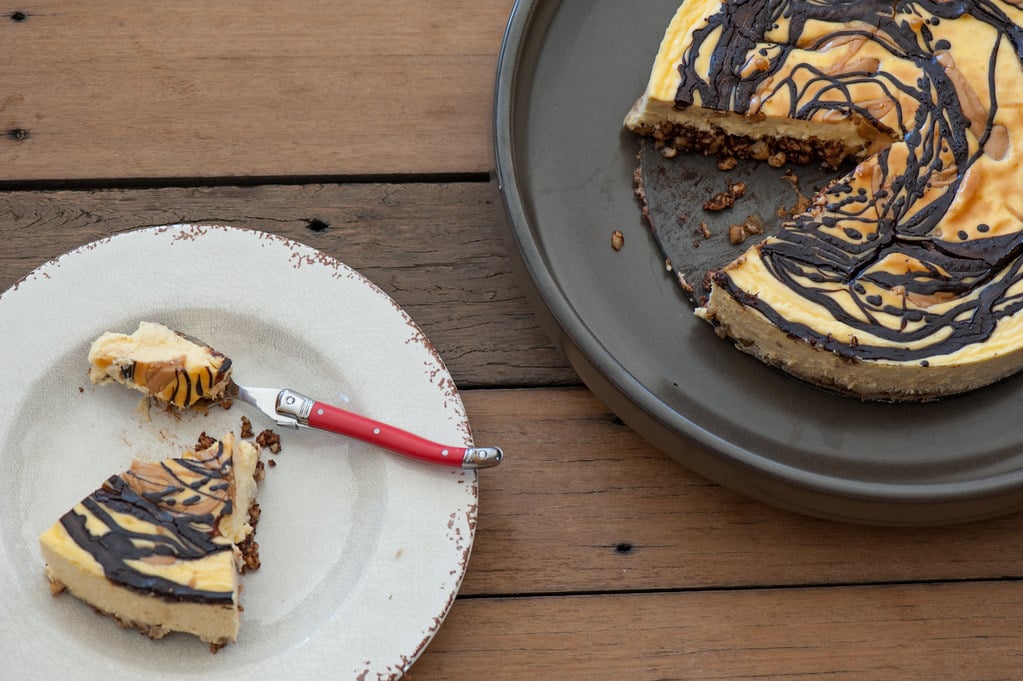 Quick and Easy Peanut Butter Pie Recipe: A Sweet and Creamy Delight by Pioneer Woman

When your sweet tooth calls for a cool and creamy dessert, stop what you are doing and make this easy peanut butter pie by Pioneer Woman. This recipe uses few ingredients, is easy to prepare, and doesn't take much time. Stay here to learn more about preparing Pioneer Woman peanut butter pie.
How To Make Pioneer Woman Peanut Butter Pie
Ingredients
For the peanut butter filling, you will need the following:
1 c. Peanut butter

– use creamy peanut butter instead of the natural one.

One package (8 Ounces) of thawed heavy cream

– making your own homemade whipped cream is the best. But if you don't have time, cool whip is a good alternative. The tartar cream it contains lets it hold up better.

One package (8 Ounces) of softened cream cheese

– full-fat cream cheese is the most preferred.

One ¼ c. powdered sugar

– this dissolves easily, unlike granulated sugar.

Toppings

– you can use chopped peanuts or any toppings you prefer.
For the crust, you'll need the following:
25 whole Oreos

Four tablespoons of melted butter
Instructions
Crust
Crush the Oreos until they become fine crumbs.

Pour melted butter over the Oreos and stir with a fork to combine them.

Press the mixture into a pie pan and bake at 350 degrees Fahrenheit for 5 to 7 minutes or until set.

Remove from the oven and let it cool completely.
Filling
Beat the peanut butter with the cream cheese until smooth.

Add powdered sugar to the peanut butter and beat until smooth.

Add the thawed heavy cream or cool whip and beat the mixture until smooth while scraping the sides as needed.

Pour the filling mixture into the crust. Even out the top with a spatula or a knife.

Chill the pie for at least one hour before serving.

Serve in small portions, as this pie is very sweet and rich.
Recipe Tips
Allow your crust to cool completely before adding in the filling. Adding the filling when the crust is still warm will compromise the integrity of the peanut butter filling.

Ensure all your filling ingredients are incorporated in the bowl before adding them to your crust. Scrape down the sides of the bowl when mixing as often as needed.

Give the pie time to firm up in the fridge before serving it. A minimum of two hours is okay. But if you can, prepare it the night before and let it stay in the fridge until you're ready to eat it.
Recipe Variations
Cut Snickers and/or Reese's bars into large pieces and arrange them on top of the pie. Then drizzle melted chocolate on top for a sweeter and richer kick.

Use graham crackers in place of Oreos for a less sweet peanut butter pie.

If you want to make a peanut butter and jelly pie, spread a layer of strawberry jam on the crust, then pour the peanut butter filling. And there you have your peanut butter and jelly pie.

If you don't like peanut butter or are allergic to it, you can substitute it with other nut butter. Almond, cashew, or even Nutella would work fine.

You can substitute the cream cheese with vegan or dairy-free cream cheese if you're vegan. You can also add mascarpone cheese for a creamier and richer taste.
What To Serve With The Pioneer Woman Peanut Butter Pie
Here are tips on what you can pair with the Pioneer Woman peanut butter pie:
Peppermint tea.

Bourbon.

Brandy.

Big red ice cream.

Green tea.

Americano.

Cointreau.

Peach ice cream.

Vanilla bean latte.
What Makes The Pioneer Woman Peanut Butter Pie Recipe Special?
Simple ingredients

– this peanut butter pie recipe uses a few ingredients which are readily available at most grocery stores.
Easy to make

– the Pioneer Woman peanut butter pie doesn't need hours of labor in the kitchen like other pies. It's easy to make, and even beginning bakers can prepare it.
No-bake pie:

What makes this pie even more remarkable is it's partly a no-bake pie. You only need to bake the crust briefly (for 5 to 7 minutes), and that's all. You don't have to bake the pie as a whole.
Can you Make The Pioneer Woman Peanut Butter Pie Ahead?
Yes, you can make the Pioneer Woman peanut butter pie ahead of time. Once prepared, wrap it well, store it in the fridge, and consume it within two days.
If you don't intend to consume it soon, you can freeze it for up to one month. Just wrap it well in plastic and freeze it. However, if your freezer contributes odors and flavors, you'll have to consume it within two weeks.
When thawing, defrost the pie in the fridge overnight, drizzle whipped cream on top, and serve. Or, you can serve it frozen. 
How To Store The Pioneer Woman Peanut Butter Pie
While it's good to avoid leftovers and prepare what you can comfortably consume and finish, sometimes remaining with leftovers is inevitable. Especially with the overly sweet and rich Pioneer Woman peanut butter pie, which can satisfy you after a small serving. So, what do you do with the remaining pie?

Like other foods, don't let it stay at room temperature for more than two hours. Note that the longer your pie stays at room temperature, the higher the chance of bacterial infestation.
So, if you're planning on consuming the pie after a couple of days, store it in the fridge. Remember to consume it within three days.
Alternatively, you can keep it in the freezer. Place the pie in the freezer until frozen (usually takes a few hours). Then cover the pie with three layers of plastic wrap and one layer of foil. This way, your pie can last up to three months in the freezer without developing freezer burns.
Warm your pie for 20 to 30 minutes before serving.
Conclusion
Pioneer Woman peanut butter pie is all about sweetness and a nutty flavor. If you have a sweet tooth and love nut butter, you'll love this recipe. And the good thing is that you can manipulate the recipe and substitute the ingredients to tailor it to your palate.