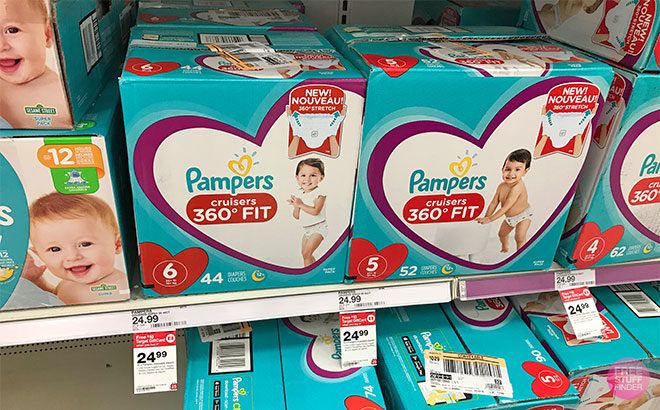 How does it feel to have a baby in the house? Every diaper change moment is probably a wrestling match. Since you always want the best for your child, you are constantly thinking about the perfect diapers that promote your child's ultimate comfort and health.
You might find yourself comparing and contrasting the two famous diaper varieties, most probably Pamper Cruiser 360 and Pamper Easy Up. Which is the best? Which has a good absorbency? Do they vary in use and durability?
If your baby weighs more than 15 pounds, Pampers 360 is a good option. It has an excellent combination of top-notch fitness and quality absorbency. On the other hand, Pampers Easy Up has a straightforward on and off design, making it ideal during the potty training phase.
A reliable diaper has good absorption features. Pampers Easy Ups has an extra absorption channel that offers optimal protection against leaks both day and night. In addition, the Dual-Leak-Guard Barriers help prevent leaks that are more likely to happen at the thighs, back or the abdomen.
Pampers Cruisers 360 has the Lock-away Channels that absorb any form of wetness and lock it away for the baby's skin to remain dry for 12 hours and even more. The Pampers 360 also features the Dual Leak-Guard Barriers that prevent leakages.
Pampers 360 Vs Easy Ups: Main Difference
Pampers 360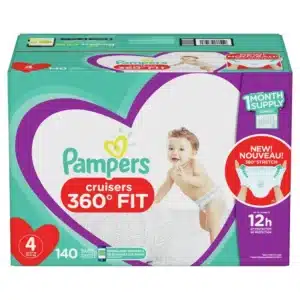 Pampers Easy Ups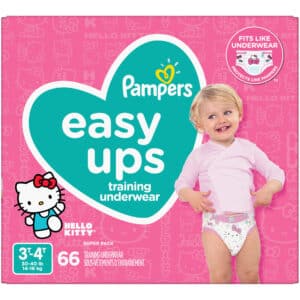 Pampers Easy Ups are also called pullup diapers. They are made specifically to be used by babies undergoing potty training. Therefore, it's typically training underwear.
Easy Ups has a stretchy waistband to easily control when to take off/on the pants, either by the baby or the caretaker. Its design is thin, like the real baby's underwear. When your baby has Pampers Easy Ups, you can easily think they are not in their diapers.
The thin design of Pampers Easy Ups means that it has little space to accommodate the dirty stuff. The storage area is smaller than what you will find in Pamper 360.
Pampers 360 diapers have a bigger capacity compared to the Pampers Easy Ups. The absorbency also is much similar to what it's seen in Pampers Cruisers.
Pampers 360 has disposable tape at the back that allows you to close the diapers tightly and keep the baby's mess inside until the appropriate time to unpin them out. Therefore, that means that Pampers 360 is meant for active children.
Pampers 360 is not similar to the Easy Ups used during Potty training. Instead, Pampers Cruisers 360 is used before the potty training phase.
Pampers Cruisers 360 Fitness
Pampers 360 diapers have a stretchy waistband, and the tear sides can be easily removed. You can undo both sides of Pampers 360, and the poop won't spill around recklessly. It has a pocket at the back side. The front and back features of Pampers 360 ensure that the diaper is worn correctly.
Pampers Easy Ups Fitness
Pampers Easy Ups is fitted with a stretchy waistband that makes it easy for the toddler to pull the diaper up and down. The hack is helpful when the children are learning how to use the potty. They are underwear-style pullups with a premium cotton-like feel and brightly colored designs that your child will love.
Why Choose Pampers 360?
Pampers 30 has an easy and practical design making it suitable for children who need diapers similar to pullups.
The extra leak protection features of Pampers 360 ensure that your child doesn't mess and spoil the house when walking or crawling. The soft cotton protects your baby's skin, while Lock-away Channels keep it dry and free from diaper rashes.
Product Information
Dimensions: 9.8 x 11.8 x 11.7″

Weight: Between 22 and 37 lbs.

Ingredients: Petrolatum, Stearyl Alcohol and Aloe Barbadensis leaf extract
Advantages of Pampers 360
The tabs don't leave marks on the thighs

Help your baby get used to the underwear-style fits

Pampers 360 is easier to use for a night-time changing
Disadvantages of Pampers 360
Using a lot of bum cream makes it slippery

It sags when full

Difficult to fit in when the baby is lying down
Why Choose Pampers Easy Ups
Easy Ups are ideal for the girls and boys on potty training. Unlike most pullups, it's unisex, which means that both boys and girls can wear Easy Ups.
Pampers Easy Ups offer ultimate protection against leakages either day or night like any other Pamper variation. It has the Dual Leak-Guard Barrier that stops the leaks when children are playing. The tear-sided removal makes removal easy and instant.
Product Information
Dimensions: 12 x 18.9 x 11″

Weight: Between 22 and 37 lbs.

Ingredients: Petrolatum, Stearyl Alcohol and Aloe Barbadensis leaf extract
Advantages of Pampers Easy Up
Tear sides are easy to detach, making the cleaning process straightforward and quick.

Pricing is reasonable

Good for overnight protection
Disadvantages of Pampers Easy Up
The chemical scent can cause thrush and rashes

Not Suitable for the small-framed toddlers
Pampers 360 Vs Easy Ups: Frequently Asked Questions
What Is The Best Way To Remove My Baby's Pampers Without Making A Mess?
The Pampers Cruisers feature easy-to-tear sides, so you can rip them apart and clean your baby before wrapping up and throwing them away. It functions similarly to a traditional diaper.
Are Easy Ups and Pullups the Same Thing?
Many parents are perplexed by "pullups" and "easy ups." To avoid any confusion, Pampers Easy Ups are pullup diapers.
Conclusion
Choosing the best diapers for your busy infant doesn't have to be difficult. While a lot is going on in the diaper industry, you may be unsure which option is best.
When deciding between Pampers 360 and Pampers Easy Ups for your on-the-go infant, remember that you're dealing with a trusted brand no matter the product you choose.
However, the main difference between the two Pampers variants is that Pampers 360 is used before the Potty training phase. In contrast, the Pampers Easy Ups are used during the Potty training session.
Generally, both have good absorbency, prevent leakages, are suitable for overnight protection, and don't cause harm to your baby's skin due to their cotton-like feel.