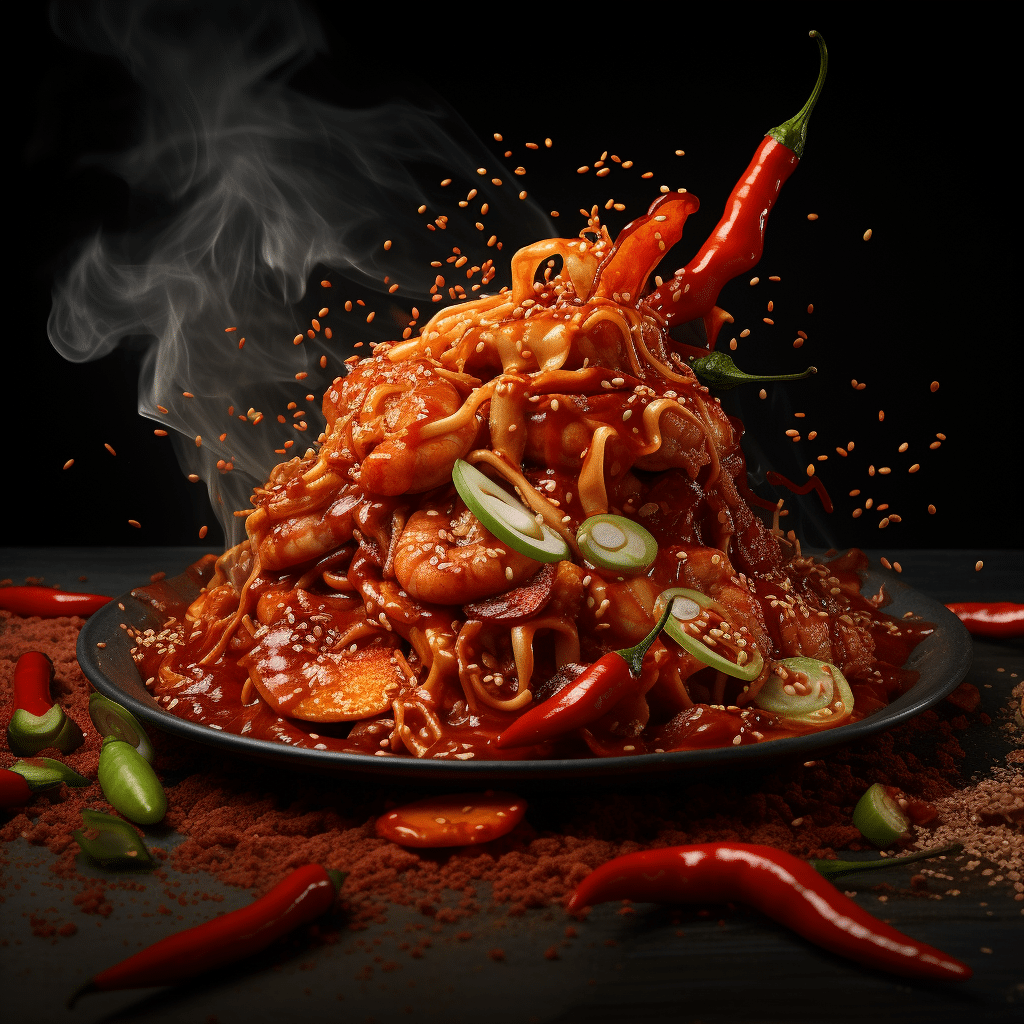 Enhancing Samyang Noodles: Tasty and Nutritious Additions
Samyang noodles are made in Korea and come in different flavors, ranging from the very hot to not-so-hot flavor. It can be boring to eat plain noodles at every meal. For a healthy balanced addition to Samyang noodles, it is important to know the nutritional values of the noodles.
According to the Samyang website, these noodles contain; Calories- of 510 cal, carbohydrates-78g, sugar-5g, protein-10g, fat-17g, saturated fat-9g, trans fat-0g, cholesterol-0mg, and sodium of 1930 mg in a standard serving. You can incorporate simple, everyday meal options into your noodles.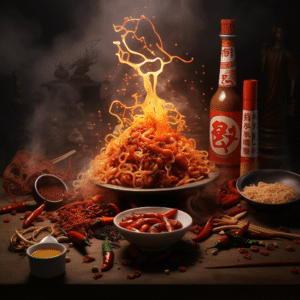 What To Add To Samyang Noodles
Garnishes 
A garnish makes food visually appealing. Ordinarily, noodles have a soft, Samyang Noodles Additions almost soggy appearance. Crunchy garnishes such as crispy fried onions, toasted sesame seeds, roasted nuts, and pickled ginger can give the noodles a crunchy texture. A spoon of crunchy peanut butter can enhance the crunchiness.
Garnishes have fibers that make you feel full for longer. Due to the high sodium level in the Samyang noodles, you may want to use unsalted garnishes or those with a little salt. Consumption of excess sodium can negatively impact your health.
Eggs
When hunger pangs hit, you want to have a fast dish to satisfy your hunger. You can cook your eggs in many ways; you could boil, fry, poach, bake, or scramble. Whatever way you cook, add to your noodles for improved taste and added nutritional value. You can also get creative and make an egg- Samyang noodle omelet that fills you up better and keeps you filled up for longer.
Sausages
Sausages and noodles make a delicious combination. For a spicier meal, you can choose spicy sausages, otherwise, choose regular ones. To make this meal combo, cook sausages in a separate cooking pot, and chop them. Meanwhile, boil the Samyang noodles for two minutes. Fry your onions, and any other spices, herbs, or vegetables of your choice, and then add in the sausages. Toss in the noodles and stir until well mixed, then serve.
Vegetables
Vegetables are healthy additions to your noodles. Broccoli, carrots, pepper, mushrooms, green peas, French beans, cabbages, and so many other vegetables would be great with noodles. Cook the vegetables that can't be eaten raw. Boil the noodles too, and then toss in the vegetables. For a crunchy taste, avoid overcooking the vegetables. You can also add frozen vegetables for a noodle salad.
Chicken 
Some pieces of chicken, whichever way you like them, make an excellent addition to the noodles. Cook your chicken and chop it into thin strips or cubes, the way you wish to have them. Toss them into your cooked noodles and enjoy your meal. Chicken is a good source of protein and will, therefore, complement the low amounts of proteins in the Samyang noodles. Crunchy bites are a plus in the chicken noodle meal.
Beef
You can prepare your beef in different ways; grill, pan, stir fry, roast, or pan-sear beef. Whichever method you choose for your beef, you can add it to Samyang noodles. You can also consider using ground meat, which would make an excellent meal for younger children.
Avocado
Avocado is a versatile fruit that can accompany any meal. You can chop it into pieces and add it to already cooked noodles. For a richer taste, you can make a creamy avocado noodle meal. To make this creamy taste, peel a ripe avocado and in a bowl, chop it up into tiny pieces. You can add nuts or any fruit of your choice and mix them up thoroughly. After attaining a creamy paste, pour it into your noodles. Nuts are significant if you want a crunch taste to balance the softness of the avocado and noodles.

Tofu
Are you a vegan or a fan of tofu? Adding a handful of tofu to your noodles would be a welcome idea. Tofu is a great source of fiber, protein, iron, and calcium, hence a great addition to noodles. For a crispy texture, allow them to turn golden brown and crispy before tossing them into pre-cooked noodles. 
Beans
To Beans are a good source of proteins and fibers and are locally available and easy to cook. Beans come in different colors, sizes, shapes, and nutritional values. Some of the common beans include; black beans, kidney, soy, fava, and garbanzo beans. Add pre-cooked beans into your noodles, and you are good to go.
Broth
You can use broth to boil your noodles instead of water. You can use a broth of your choice; chicken broth, vegetable, or even vegetable broth. Samyang noodles in broth make a great soup that is good for a starter.
Cheese 
Top your noodles with some cheese slices or shredded feta. Then add some garlic or tandoori mayo sauce and enjoy this smooth sliding relish in your mouth. You could sprinkle a few onion rings for that extra flavor. This is not a meal for the weak hearted; you will be guilty for a while if you are.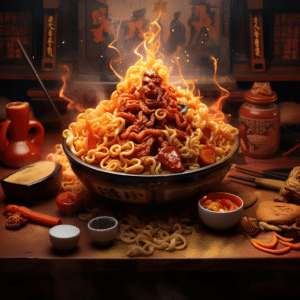 Coconut milk 
If you are a fan of Thai cuisine or wish to try it out, cook your noodles in coconut milk with fish sauce and sugar. This will give you a thick, rich Thai version of Samyang noodles. You add in some vegetables or nuts.
Herbs And Butter
For picky eaters in your house, they would love these additions to Samyang noodles. Boil your noodles and add some unsalted butter. Top up with some herbs such as coriander and Italian herbs. You could also sprinkle on a few drops of lime juice. A little seasoning such as chili powder, black pepper, paprika, cumin, curry powder, and white pepper adds a little more flavor to the noodles.
Samyang Noodles Additions when it comes to cooking Samyang noodles, just a little creativity can turn a good meal into a great one. You can use what you have in the house or locally available to spice up your noodles.