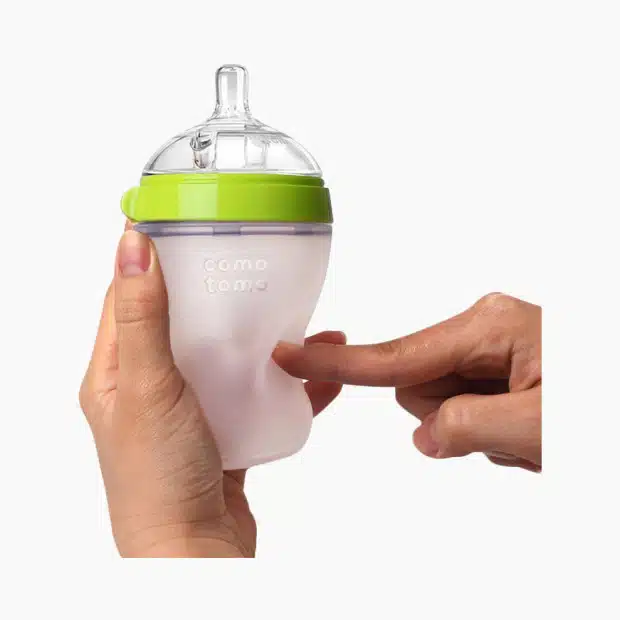 What is the best baby bottle for your little one? It's a question that has plagued parents for generations. There are many bottles out there and many claims about which ones are best.
These options range from plastic bottles with a built-in nipple warmer to glass bottles with silicone sleeves to stainless steel ones that are BPA-free. But what if you want something different? What if you want something more eco-friendly? Or maybe even more convenient?
Enter Dr Browns and Comotomo Baby Bottles! These bottles are convenient and easy to clean and help protect your baby from exposure to toxins in most plastics. But which is better? Which should you consider for your next baby bottle shopping? 
This article compares both baby bottles and leaves you in a better position to make an informed decision. Let's dive in.
Dr Browns Vs Comotomo: Overview
Dr Browns Baby Bottles Overview
Dr Brown's bottles are one of the best brands on the market. They have been around for years and have become one of the most popular baby bottles in the world.
They are an excellent choice for parents who want to maintain a healthy supply of breast milk and formula while providing their baby with wide-mouth access to the food they need. 
This bottle is designed with new valve technology, which makes it easy for you to use and clean. Dr Brown's Baby Bottle has a wide neck that helps you feed your baby without adjusting the bottle during feeding time. The bottle also has spill-proof, leak-resistant handles with an anti-colic valve that keeps air out when feeding on the go.
Similarly, it can attach easily to any breast pump, making it perfect for moms who have multiple kids or want to save on space in their homes. It comes in various colors to choose what works best for your family.
This bottle features a nipple that is extra soft, making it comfortable for babies' mouths. You'll love using this bottle because it's made from durable polypropylene plastic that can withstand chipping and cracking, making it perfect for traveling with your little one!
Benefits of Dr Brown Baby Bottles

The benefits of Dr Brown Baby Bottles are quite significant. Here are some
Dr Brown's Infant Bottle features a unique anti-colic system that prevents air from entering during feeding. Air is trapped in the nipple and valve, helping prevent gas and colic from occurring. The Anti-Colic System also helps minimize gas buildup by reducing the amount of air trapping in the bottle's nipple area.
One of the greatest benefits of these bottles is that they are extremely easy to clean. They have no parts other than the nipple and vents. All you have to do is wipe the bottle with warm water and soap or replace disposable liners if necessary.
The bottle also has a unique shape, making it easy for your baby to hold. The wide part at the top supports your baby's head and neck, while the straight sides make it easier for them to grasp. This also makes it easier for them to drink from their bottles without spilling or dribbling.
Comotomo Baby Bottles Overview
Comotomo is a new, high-quality baby bottle designed to meet the needs of your growing baby.
It has a unique design that provides excellent flow and natural feeding and cooling properties, making it one of the best bottles out there. 
The bottle has a built-in nipple shield, which helps keep your baby's airway safe. These nipples have been designed with an ergonomic shape and soft inner surface, which makes them very comfortable to use.
It is also made from non-toxic materials, including BPA-free plastic, making it an excellent option for parents who want their child's health and safety to be as high as possible. It also has a wide mouth opening that allows it to comfortably hold large volumes of liquid, making it suitable for children who need more than just water or formula at night time.
Consequently, Comotomo comes with a patented spout cover that helps prevent leaks by keeping excess air out of your child's mouth while drinking. It also comes with an anti-colic valve that prevents gas from accumulating in the bottle, which can cause colic issues later on down the line for your little one.
Benefits of Using Comotomo Baby Bottles
Comotomo baby bottles are a great way to give your baby comfortable and safe feeding. These bottles have been designed with safety in mind, so you can rest assured that your little one is protected while feeding. 
They also have a sturdy construction, which means they will last longer than other bottles on the market. Here are other benefits;
Comotomo bottles feature a unique silicone nipple that is easy for babies to grasp. The open-top design makes it easier for your baby to drink without spilling over or dribbling down the side of the bottle. 

Easy to assemble
Comotomo baby bottle is easy to assemble, you need to press the two parts together, and then you are ready to use it. It is made of high-quality material that keeps it in good condition over time.
Comotomo baby bottles are easy to clean. They come with a cover you can easily remove and wash after each use. The cover also helps you store the bottle effectively when not in use-away from dirt.
A wide opening at the top makes it easy for your baby to suck milk from the bottle and the nipple. This feature helps babies simultaneously develop their sucking skills and get enough milk for themselves at all times.
Dr Brown Vs Comotomo; Which is Better?
When choosing the right baby bottle, you will have to look at several factors. Some important factors to consider when choosing a baby bottle are the price, performance and durability. Many people will recommend that you buy an expensive and innovative product over a cheaper one that works just as well. 
The Dr Brown bottles are one of our favorites in design, quality and functionality. 
They claim to have the "Best Bottle" award for their performance and safety. And this could be true since they are made of BPA-free plastic as well as being dishwasher safe.
However, on the other hand, their counterparts Comotomo boast about the hygienic condition of their bottles since they are not made of plastics. That's not all, as they feature a silicone nipple that is easy to feed from compared to rubber teats integrated into many regular bottles.
Bottom Line
If you're looking for a bottle that's easy to clean, popular with babies, and performs well under all circumstances, then Dr Brown's may have what you're looking for. 
If you want a hands-free option and are willing to sacrifice some of the features associated with Dr Brown's bottles, then the Comotomo may be the better choice for your baby. 
Either way, you can't go wrong with these two popular bottle brands!