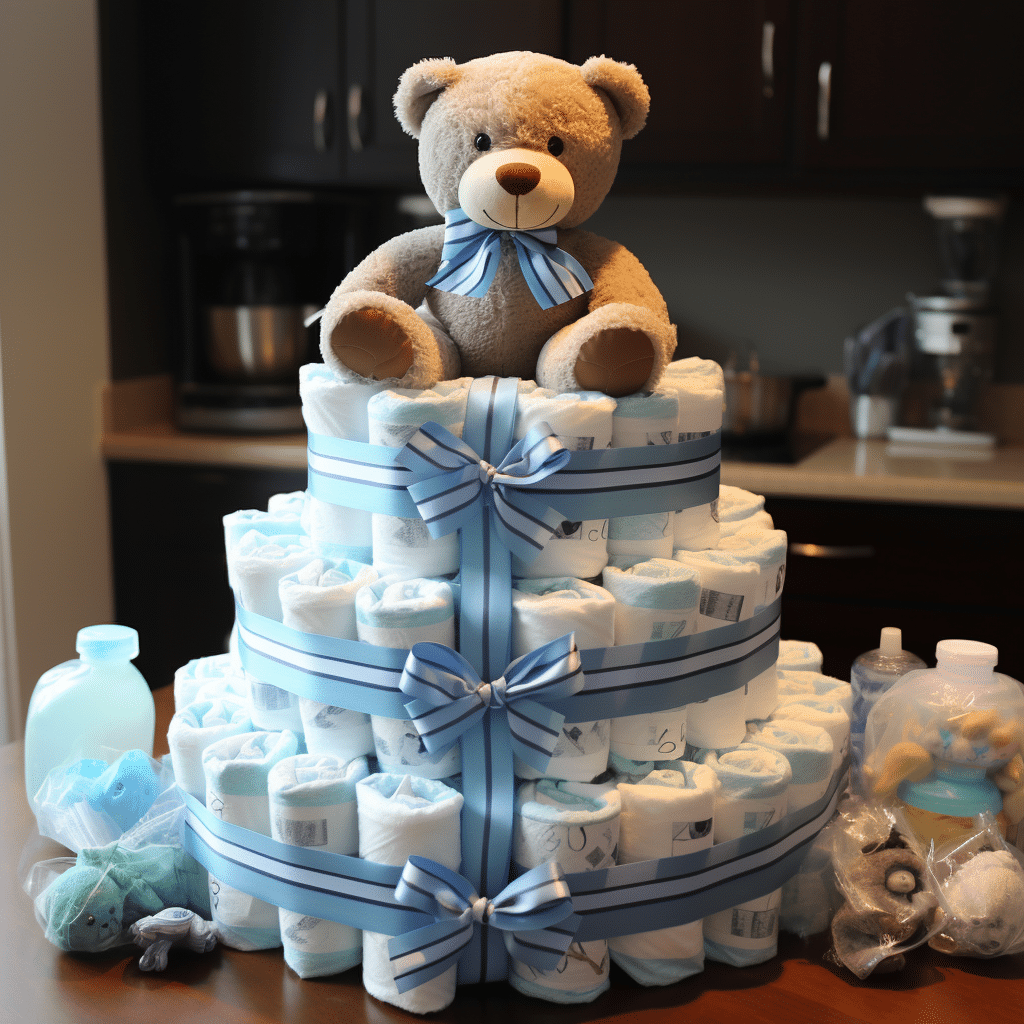 Diaper Cake: Creative Gift and Decor Idea
Diaper cake benefits and making at home: In 1988, Jeniffer Steadman, a United Kingdom citizen, was folding washable diapers for her son, who accidentally formed a cake, and she liked it. A few months later, during her nephew's baby shower, she made the first diaper cake for the pregnant mother. Eventually, it became popular and has become a common trend in many baby showers worldwide. 
Why Buy A Diaper Cake?
A diaper cake is an excellent, unique gift for a baby shower or nursery decoration. When your friend or relative is about to welcome a bundle of joy, you would wish to give them a memorable baby shower. Traditional edible cakes and other gifts are typical, and a diaper cake would break the monotony of such items. So, should you buy a diaper cake? The answer is yes and no. Yes, because you can buy a ready-made cake, and no, because you can make it at home. This article looks deeper at the origin, benefits, and how to make your diaper cake at hom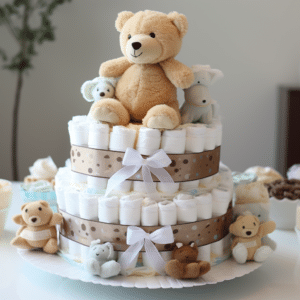 e. 
Why Diaper Cake
There are numerous reasons why you should buy a diaper cake. They include;
Lovable Gift
A diaper cake is an excellent gift for a mother-to-be. It can act as a centerpiece in a room or decoration in the nursery before the baby is born. 
Practical Gift
With edible cake, you will eat and forget about it. But with a diaper cake, those diapers used to make the cake will be used on the baby after birth. When making this cake, avoid contaminating the diapers. Ensure you wash your hands thoroughly with soap and water, and if transporting it, cover it adequately. Avoid exposure to dirt and other contaminants. 
 Unique 
A diaper cake gives you room to be creative and includes original ideas. A creative mind is all you need, and you don't require baking skills in this one. It allows you room to create your unique design and pattern suited for the personal preference of your host. 
Personal Touch
A diaper cake allows you to give it a personal touch. You choose the colors, designs, patterns, number of tiers, and size of your cake. 
Fun To Create
Making a diaper cake at home can be fun, and you could involve your family members, children, or friends. It allows you time to bond and exercises your creativity. With this cake, you can not run short of ideas. 
Easy To Make
When making a diaper cake at home, there are two methods you can choose. You could decide to roll individual diapers and form a cake or wrap them around your base without folding. Whichever way you opt for, it is easy to make. 
Nursery Decor
Often baby showers are held during the last semester of pregnancy, around seven or eight months. Before the baby is born, this piece of art can act as an excellent nursery decoration. 
Diaper Supply
A diaper cake can contain as many as hundreds of diapers, depending on its size. The mother will use these diapers after birth, and she will be assured of a diaper supply for a period. When making this cake, you could consider using different diaper sizes that can serve the baby for the next few months. 
How To Make A Diaper Cake At Home
You could buy diaper cakes from online stores and stores around you. When you need a unique piece with a personal touch, make your diaper cake home. The process requires precise accuracy but is simple enough for one to learn.
The essential items that you need are; 
Your preferred diapers in colors and prints of your choice. 

Elastic rubber bands. 

Decorative ribbons. 

Dowels

Scissors

Cellophanes or soft tulle

Base. You could use cardboard, a large bottle of lotion, or a hard toy. 

Other decorative accessories such as bow ties, flowers, and soft toys.
Steps For Making A Diaper Cake
Gather all required items. Working with things in a central place makes your work easy.

Wash your hands thoroughly with soap and water.

Build a firm and sturdy base that can hold the number of diapers you intend to use. You could use a practical base such as baby lotion or a toy. 

Roll individual diapers and tie them with an elastic rubber band to secure them properly. Arrange them around the base. Alternatively, wrap the diaper around the bottom one at a time until you have covered the base round. 

Create the number of tiers you intend by adding diapers around the added base.

Tie around the decorative ribbons or soft tulles to hold the diapers together and make the cake look attractive. You could use cellophane to hold the diapers together. 

Make the final touches. You could add as many decorations as you wish.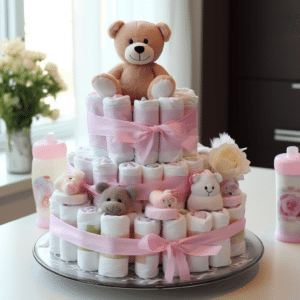 Decorative Tips Ideas For A Great Diaper Cake
Be Creative
Please do not limit yourself when it comes to decorating your diaper cake. Create unique designs and patterns.
Mix Colors
Mixing colors around could make an appealing diaper cake. For instance, in a baby girl shower, you could mix pink, white, light purple, or other colors that resonate with the room and mum's taste.  
Use Disposable Or Washable Diapers
Either disposable or washable diapers can make a great diaper cake. You could mix the two, use them individually, or create a tier of disposable and other or washable diapers.
Add Sweets And Candies
Sweets and candies can make a diaper cake attractive to persons with a sweet tooth. After the celebration is done and dusted, you can eat the goodies. 
Write A Message
Write goodwill or a simple" it's a girl or boy message on a card or paper and hang it on the diaper cake. It will brighten the face of the mother-to-be. 
Diaper cake benefits and making at home buying a diaper cake is worth your bucks. It is an excellent, practical, adorable, and unique gift to the mother and baby.