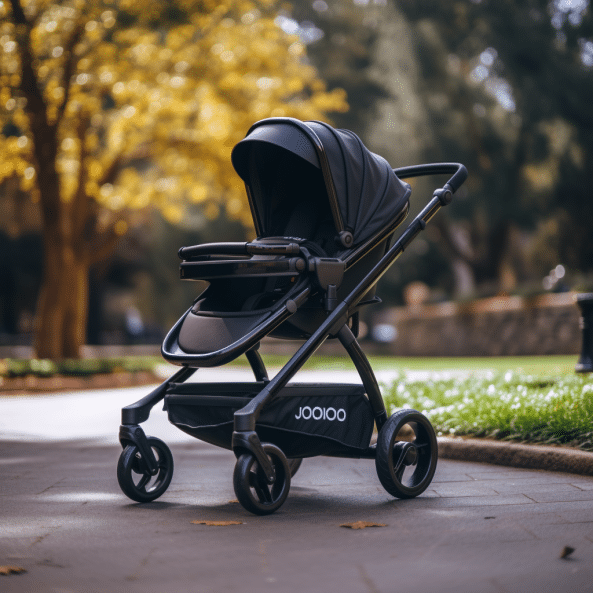 Comparing Joovy Qool vs Mockingbird Strollers: Ultimate Guide

As a mother of an infant, a toddler, or a pregnant mother, I guess top on the list of your to-buy baby items is a stroller. Do you know where strollers originated? In 1733, the duke of Devonshire wanted something to transport his children easily while taking walks and tasked William Kent to come up with a stroller.
The ancient models were made of wood and were pulled by a small pony or goat. With the advancement in technology, materials and designs have revolutionized and greatly improved. In present times one can get a cozier, lighter, and more versatile stroller than they were more than 289 years ago.
There are several types of strollers available in the market designed to meet the needs of different people. They vary in cost, design, and use. The major types are; standard full-size strollers, jogging strollers, travel systems, umbrella strollers, and double strollers.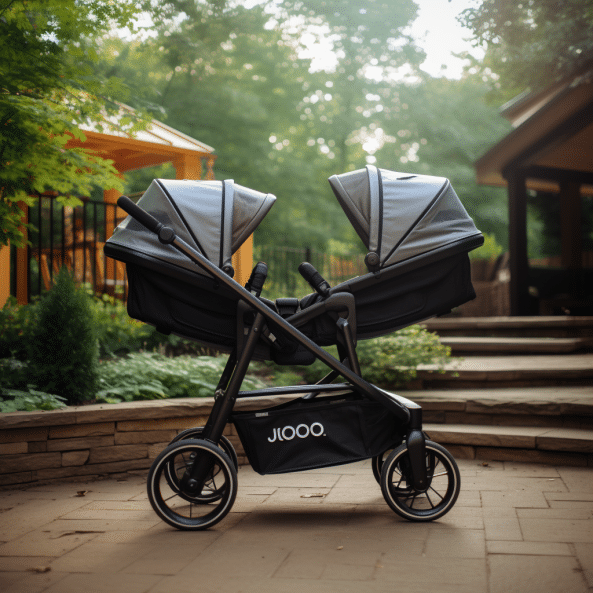 Why get a Stroller?
For convenience, while taking that evening walk, visiting the grocery store, and even jogging.

A stroller makes traveling easier especially when one has more than one child. It is close to impossible to carry more than one child by the hand.

Portability- It is easy to carry strollers around

Easy to carry baby accessories in the baskets attached.

Helps soothe a baby. Babies love comfortable and familiar places and that is what strollers provide.

Safety and security of the baby 

Assists mothers keep fit while taking care of the baby at the same time
When choosing a stroller for your baby, there are several non-negotiable factors to consider. On top of the list are safety, cost, functionality, durability, portability, versatility, number of children, and comfort of the children. Strollers are convenient and make walking, strolling, or jogging fun and easy.  
Joovy Qool vs Mockingbird: Overview
Joovy Qool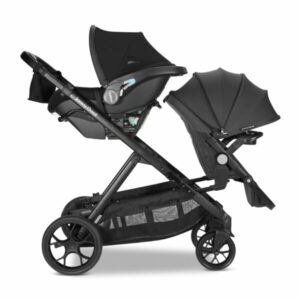 Mockingbird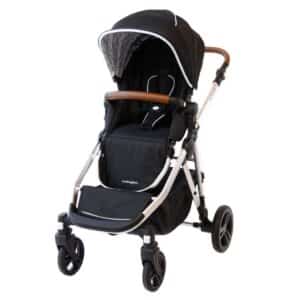 Today, we compare and contrast two leading strollers; Joovy Qool and Mockingbird. Both the Joovy Qool and Mockingbird, have so much in common. They are travel systems i.e; they include an infant car seat and toddler stroller in one system.
The Mockingbird single-to-double and Joovy Qool single, double and triple strollers can be used either for one or multiple children.

This makes transportation for multiple children easy and convenient. They are designed for children between the ages of 6 months to 36 months.
Size
Open dimensions for Joovy Qool are 39.96" L x 24.80" W
while Mockingbird is: 34" L x 25.5" x 33" W and while folded dimensions are 37.01" L x 24.80" W x 17.72" H and 25.5" x 40" x 33" for Joovy Qool and Mockingbird respectively.
Weight capacity
The stroller weight of Joovy Qool is 30.6 lbs. and the maximum seat weight of 55lbs. On the other hand, the stroller weight of a Mockingbird is 26.5 lbs. for one seat (35lbs) for two seats. The maximum seat weight for Mockingbird is 45lbs.
Canopy
Both Joovy Qool and Mockingbird have an all-weather canopy with a see-through peek-a-boo window, a mesh panel for optional airflow, and an attachable full coverage sunshade. High contrast black-and-white patterns on the canopy interior promote early childhood visual development.
Frame
The Mockingbird is made of a sturdy and stable aluminum frame with versatile, high-quality material that has been thoroughly for safety. The Joovy Qool is a silver frame in black. 
Wheels
Mockingbird boasts of go-anywhere wheels that mirror the smooth ride of air tires, minus the potential to pop or go flat, and a one-step foot brake and front-locking wheels. However, reviews have revealed that the stroller can't smoothly maneuver bumps, sharp corners, and rough surfaces. The Joovy Qool prides itself in never-flat rubber tires, and big wheels hence a smooth ride on all surfaces, better than its competitor.
Accessories
Joovy Qool comes with a free cup holder, while Mockingbird sells it. With a few more bucks, you can get other assorted accessories; car seat adapter, infant seat inserter, 2nd seat kit, no-kick
snack tray, parent organizer, bassinet/carriage, seat liner, footmuff, hand muff, rain cover, and mosquito net. Mockingbird has a riding board and cup holder at an extra cost, with Joovy Qool you can get a bench.
Modular system
Both Joovy Qool and Mockingbird can easily switch between parent-facing and forward-facing modes and inclining seats. Nevertheless, when the Mockingbird is mounted in a car, one seat faces the car's rear and the other the front which makes it hard to use two seats in the car. 
Basket
The Joovy Qool and Mockingbird strollers are generously sized that hold essentials up to 25 lbs. A detachable front cover gives you the option of extra protection or easier access.
Configurations 
Mockingbird has five sitting arrangements for one child, 13 for two children, and 19 configuration options. On the other hand, the Joovy Qool has 52 ways of customizing the sitting arrangement and four configurations out-of-the-box.
Other similar accessories are an adjustable leatherette handlebar and an adjustable footrest that is lockable. These strollers are compatible with car seats, you just need a seat adapter and you are good to go.
Limitations
According to reviews, Mockingbird strollers have been criticized for;
Large size-its large size makes it cumbersome especially for travel. One will need a car with a large trunk to comfortably travel with it,

Too heavy. 35 lbs. is a relatively heavyweight to carry around when need be. 

The low non-adjustable canopy is uncomfortable for a child.

Non-telescoping handlebar

As with most reversible strollers in this category, you can't fold it with the seat facing you. You need to rotate the seat or remove it for a flat fold.

Inability to navigate rough surfaces and bumps, especially when carrying more than one child.

Purchasing accessories separately increases the cost.

Joovy Qool has limitations too;
Extra charge for accessories hikes the price, making it quite costly compared to the prices advertised.

Joovy Qool is one of the heaviest models on the market. 

The fold is relatively large hence cumbersome to store and travel. 
Overall, the Joovy Qool and Mockingbird strollers are a worthy investment for your young ones.