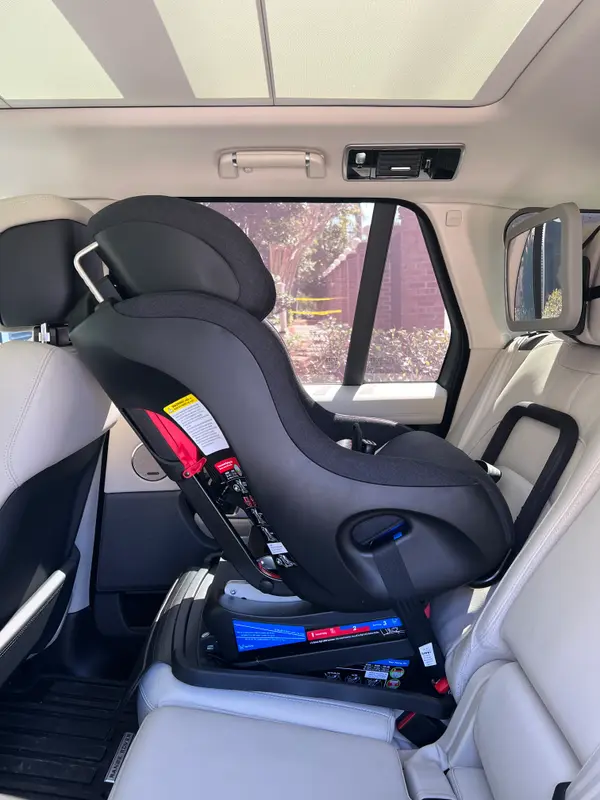 As a parent, the safety and comfort of your child are very important when considering a convertible seat for your little one's use. Clek Foonf and Nuna Rava are steel-based with advanced safety systems, narrow and stylish, and a cozy look. Below is a detailed description of each of the two convertible seats.
Clek Foonf
Clek Foonf is a convertible car seat with forward-facing safety performance and extended rear-facing for kids up to 4 years made of steel and magnesium. Each seat is built on a solid metal substructure with inner and outer energy-absorbing foam layers.
Features
Has Rapid Energy-Absorbing Crumple Technology(REACT) Safety System. This is an aluminum honeycomb that sits under the child, designed to absorb crash forces. It is very similar to vehicle crumple zone technology.

Anti-rebound bar that prevents rebounding when rear-facing in a frontal collision and rotation in a side-impact collision; while also improving installation by nesting firmly and evenly into the flat part of the vehicle seat.

Advanced side impacts protection system enhanced with EPP foam with outstanding energy absorption and increased buoyancy.

Effortless forward-facing latch installation.

Federal Aviation Administration approved for aircraft use.

9 years of use before expiration

3 years warranty 

Pop-out leg improving comfort for a rear-facing child.

Made in Canada

The adjustable headrest protects the child in case of a crash or emergency braking.

Available in three fabrics; jersey knit, C-Zero Plus Performance Crypton, and soft merino wool

The base comes in two colors; thunder (cloud gray) and marshmallow (snowflakes).

3 smooth recline positions

Has an adjustable crotch strap and 6 different harness heights that assist in adjustment to fit children of different sizes and ages.

Meets federal motor vehicle safety standards(FMVSS213)

Built-in rear-facing lock-offs that remove excess slack from belts

Eco-friendly; when done with the car seat, return to the stores for recycling.

Rethread Harness:

The harness must be rethreaded as your baby grows. This is kind of a pain, but thankfully, not something you have to do very often

The narrow width,13″ at the bottom and 17″ at the top, makes it possible to fit three seats side-by-side and makes the car seat easier to install in center seats and deep bucket seats.
Accessories 
Clek Foonf seats come with several accessories purchased separately; soft fluffy onesie, mat, universal travel bag, cup holder, fabric cleaning kit, and infant insert q-tether that limits rotation while rear-facing.
Nuna Rava is a Dutch manufactured convertible car seat that prides itself in top-notch safety features coupled with comfort and posh looks.
All-steel frame and reinforced belt path for maximum protection 

Side impact protection enhanced with energy-absorbing foam which has multiple impact resistance.

Removable head and body insert hence ease of cleaning.

10 headrest positions

Has 5 point no-rethread harness, and 2 no-rethread crotch strap positions.

Simply-secure install system for swift, secure and straightforward installation.

Federal Aviation Administration approved for aircraft use.

Green guard gold certification denotes less indoor air pollution, less risk of chemical exposure, and a healthier environment.

Flame retardant-free seats made of natural bamboo fabric

Hypoallergenic odor-resistant fabric

Dual flip open cup holder and organic cotton infant head & body inserts

Laidback legroom for rear-facing children.

True tension™ door aid in ultra-secure and simple installation

Integrated rebound bar that helps minimize rotation during impact.

Integrated magnetic buckle holders that help keep straps out of the way when buckling in a baby.

Ventilation panels within the shell create a comfy climate for even long trips. Bamboo fabric is breathable and super soft, thus enhancing comfort.

One hand, height-adjustable head support with 10 different positions up to 43 inches.

Pretty slim from the outside though not roomy on the inside.

Has five recline positions for rear-facing

The seat can be installed with either LATCH or a seat belt i.e you have to remove the seat pad and unthread the crotch strap to access the LATCH/belt lock-offs.

It cannot fit three car seats in your backseat.

Although it has breathable knit fabric and ventilation panels, it still seems to get toasty in hot weather. To control the sweating, cover the car seat with a blanket when you leave your car in the sun.
Accessories
There are other accessories one can purchase; tray, rain cover, soft goods bundle, certified organic cotton fabric and dye insert set, harness pad and buckle cover bundle, mini organic cotton sheet, car seat adapter ring, and bassinet stand. One can also get a variety of bags including; a wheeled travel bag, diaper bag, transport bag, non-wheeled travel bag, and sling bag.
Summarized comparison between Clek Foonf and Nuna Rava
Description
Clek Foonf
Nuna Rava

Warranty

3 years

2 years

Expiration period

9 years

10 years

Seat fabric

Bamboo blend fabric

-Jersey knit

-Merino wool

-Crypton

Colors

Carbon

Thunder Gray

Cloud Gray

Pitch Black

Marshmallow

Snow

Snowberry Pink

Mammoth

Genie

 

·

     

Lake

·      Rose

·      Caviar

·      Granite

·      Frost

 

Installation

Latch system and seat belt

Latch system and seat belt

Washing

Not all fabric are machine washable

Machine washable

Weight and age limit

Rear facing-14-50lbs. when they can sit upright alone

Front –facing-25-65 lbs. from 2 years

Rear-facing-14-50 lbs. from the time they sit upright alone

Front facing-22-65lbs. from 1 year( but recommends 2 years)

Cup holder

Purchased aside

In built

Rethread

Manual rethread harness

No-rethread harness

Weight

46.6 lbs.

27.2 lbs.

Portability

Heavy thus not portable

More portable

Price

more expensive

Cheaper

Rear recline positions

5

3
Cons of Clek Foonf and Nuna Rava convertible car seat 
They are heavy and thus not easily portable

They are expensive

They are narrow on the outside but not roomy on the inside 

Clek Foonf's rethread harness is cumbersome.
Clek Foonf is somewhat complicated to install and somewhat complicated to adjust as the baby grows.
Nuna Rava's buckle is a little stiff.
Overall, considering the above features, pros, and cons, both Clek Foonf and Nuna Rava car seats are worth a try.