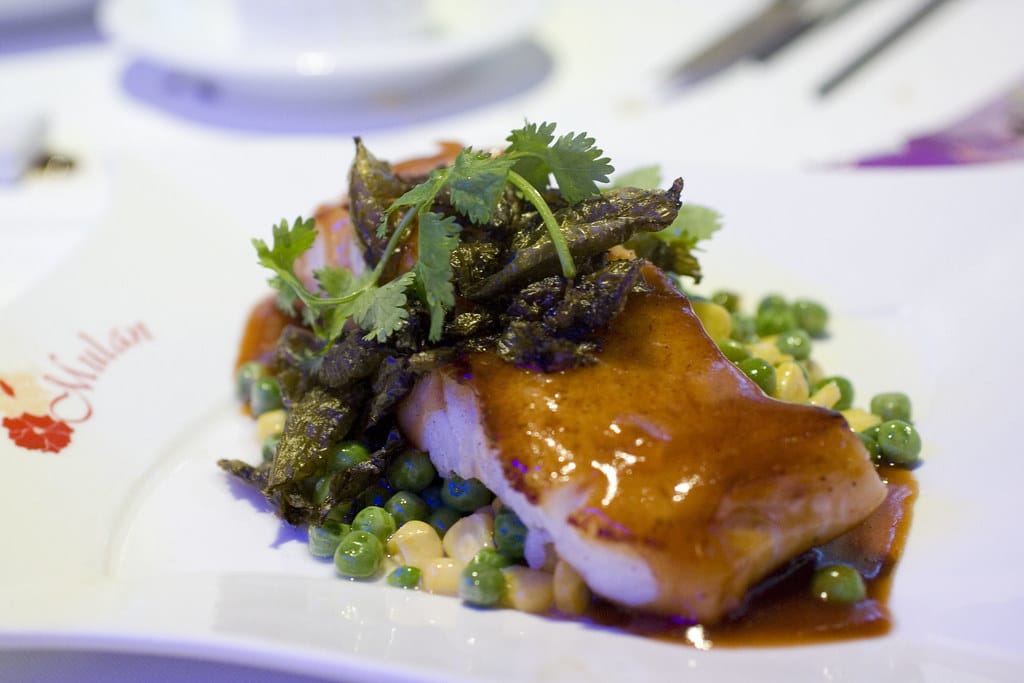 Chilean Sea Bass Recipe Gordon Ramsay
Are you looking for a delicious and elegant seafood dish to serve your family for dinner? Look no further; this Chilean sea bass recipe by Gordon Ramsay is your best shot. It's tasty and cooked to perfection, then completed with a sauce that will leave your family wanting more.
Chilean sea bass fish is known for its delicate flavor and firm texture and consistently features in many upscale establishments. The best way to prepare this fish is to use Gordon Ramsay's recipe. The result will be an impressive, flavorful dish that will please even the most discerning palate.
Tune in as we prepare Chilean sea bass using Gordon Ramsay's recipe.
Chilean Sea Bass Recipe Gordon Ramsay
For this recipe, you'll need the following:
For the sea bass:
Sea bass fillets

– go for thicker fillets if possible, as they're less likely to get overcooked. Also, ensure the fillets are about the same for them to cook evenly at the same rate. The cooking time in this recipe is based on 5-ounce fillets, the standard portion size for sea bass fillets.

Olive oil

– you can also use avocado oil.

Lemon juice

– use fresh lemon juice for the finest flavor. And although you can substitute this with bottled lemon juice, the recipe still calls for lemon zest, so it's better to use fresh lemons.

Garlic powder

– feel free to use either garlic powder or two fresh garlic cloves.

Black pepper and sea salt

– these are for the Beurre Blanc sauce. You can also use kosher salt.
For the Beurre Blanc:
Shallots

– use dry wine like Pinot Gris, Sauvignon Blanc, Pinot Grigio, or Pinot Blanc.

White vinegar

– this is the best for this recipe, but if you don't have it, use apple cider vinegar or lemon juice in a pinch.

Heavy cream

– creates a sauce with a velvety mouthfeel and desirable qualities.

Lemon zest

– ensure you only take the yellow part of the zest; the white part is bitter.

Unsalted butter

– divide the butter into cubes and refrigerate until ready to use in the recipe. The recipe calls for butter below room temperature.

Sea salt

– you can use kosher salt as an alternative.
Procedure
Baked sea bass:
Preheat your oven to 400 degrees Fahrenheit.

Mix olive oil, lemon juice, and garlic powder in a small bowl using a whisk.

Dry the fillets by patting them with paper towels and arranging them in a stoneware baking dish, leaving space between each fillet.

Season the fillets with garlic powder, sea salt, and black pepper on both sides, then coat them with the olive oil mixture.

Bake the sea bass for 12-15 minutes until their internal temperature reads 135-140 degrees or until the flesh flake easily when tested with a fork – whichever comes first.

Serve with your favorite accompaniment, and enjoy.
Beurre Blanc:
Combine shallot, wine, and vinegar in a small saucepan about 5-inch diameter set over medium-high heat.

Bring to a boil, lower heat to medium, and simmer for 3-5 minutes or until the volume is reduced to ¼ of the initial amount – two tablespoons should remain.

Mix in the heavy cream and the lemon zest.

Reduce the heat to low and add two to three cold butter cubes. Stir continuously until the butter melts.

Add the butter in increments of two to three cubes at a time, followed by stirring and letting the butter melt. Ensure the heat is low and avoid boiling; otherwise, the sauce will separate.

Add a pinch of salt from the sea salt.

Serve the sauce over baked sea bass or keep warm for up to 30-60 minutes in a thermos or the hot pan on the stove with the heat turned off.

It's crucial to keep the sauce warm, but don't let it be too hot.
Recipe Tips
Avoid overcooking

– ensure you have a thermometer to help know when the sea bass registers 135-140 degrees.

Use a tiny small light colored skillet for sauce

– this is the best pan as Buerre Blanc needs low heat and a cooking vessel large enough to contain the sauce without overflowing.

Ensure your butter is cold

– this is crucial for the sauce to emulsify correctly. So, don't remove it from the fridge until you're ready to use it.
Recipe Variations
Pan sear first

– if you want a golden brown crust, pan sear the sea brass in a pan on the stovetop over medium heat for 1-2 minutes on each side before baking it in the oven.

Sea bass with pesto

– to achieve this, bake your sea bass as instructed, and once through, spread a layer of pesto over the fish and return it to the oven for the final few minutes; then, your fish will be ready to serve.

Lemon butter sauce –

if you prefer a less fussy sauce than the Beurre Blanc, try the straightforward lemon butter sauce, and you'll enjoy it.

Miso glazed sea bass

– combine miso paste, mirin, garlic, coconut aminos, and ginger in a small dish. Then brush the mixture on the fish before baking, and you'll have miso-glazed sea bass.
What Can You Serve With Gordon Ramsay Chilean Sea Bass?
There are various side dishes you can serve with this seafood. But here are some of the best ones:

Salad

– you can enjoy the sea bass with a hearty salad like red potato salad, orzo salad with feta, or potato salad without mayo.

Pasta

– vegetable lasagna with white sauce or hamburger noodle casserole will pair well with the Chilean sea bass.

Rice

– you can also serve your sea bass over a bed of shrimp fried rice or cauliflower fried rice for a tasty and perfect dinner.
Conclusion
Chilean sea bass, or sea bass from Chile, can be cooked in any way imaginable, and there are numerous seasonings and herbs you can use on it. That's because of its flaky texture and buttery and smooth flavor.
However, Gordon Ramsay's way of preparing this seafood is one of the best and a favorite among many. So, if you haven't tried this recipe, grab your apron, get cooking, and enjoy.