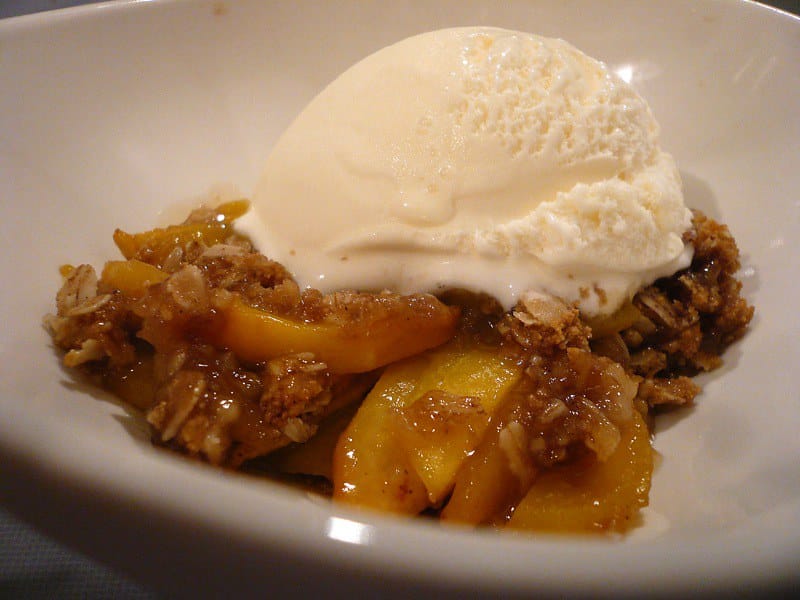 Delicious and Easy Pioneer Woman Peach Cobbler with Canned Peaches
If there's one thing the Pioneer Woman knows how to make is a peach cobbler with canned peaches. This recipe is perfect for anyone who wants a delicious and easy dessert to make using canned peaches.
You will love the cinnamon and sweet flavors in this dish. And although there are many ways of making peach cobbler, the Pioneer Woman's one is one of the simplest. It's made with a few ingredients and comes together quickly and easily, delivering all the peachy goodness you crave. 
Here's how to make Pioneer Woman peach cobbler with canned peaches. Give this recipe a try and you won't be disappointed.
How To Make Pioneer Woman Peach Cobbler With Canned Peaches
 To make this desert, you will need:
 1 stick butter

 1 cup self-raising flour

 1 cup sugar

 ½ teaspoon ground cinnamon

 4 cups drained canned peaches

 ½ cup brown sugar

 ½ cup chopped pecans

 1 tbsp vanilla extract
Procedure
 Preheat the oven to 350 degrees Fahrenheit or 175 degrees C.

 Melt the butter and mix it with flour, sugar, and cinnamon in a medium bowl. Mix well and set aside.

 Combine the peaches, brown sugar, pecans, and vanilla extract in a large bowl.

 Pour the peach mixture into a 9*13 inch baking dish.

 Sprinkle the flour mixture over the top of the peaches.

 Bake for 45 minutes or until the topping is golden brown.

 Serve with ice cream or whipped cream, if desired, and enjoy.
 What To Serve With Peach Cobbler 
This Pioneer Woman peach cobbler recipe is delicious as it is, but you can also serve it with something special if you like. Here are serving options you should consider: 
 Vanilla ice cream

 Caramel or butterscotch drizzle

 Sprinkle cinnamon

 Sugared strawberries

 Honey

 Vanilla sauce

 Maple syrup

 Sprinkle of brown sugar

 Whipped cream
 Here are more recipe ideas you can consider to enhance your peach cobbler:
Add more peaches to make your cobbler sweeter, but not maple syrup.

This recipe will give you a cobbler with nicely baked golden brown edges and a gooey center. Use a little amount of syrup if you don't want a gooey center.

You can add more cinnamon to the peaches before baking to enhance their flavor.
 What Makes The Pioneer Woman Peach Cobbler Good?
 There are various reasons why you'll love this Pioneer Woman peach cobbler recipe. They include:
 It's a simple oven-baked dessert that you can prepare in minutes.

 You can eat it as it is or serve it with other vanilla ice cream.

 You can substitute peaches with your favorite fruits.

 You can serve peach cobbler after dinner, bring it to a potluck, or send it to a friend in a care package.

 It might be one of your new favorite cobbler recipes or one of your favorite desserts.
 What's The Difference Between Cobbler, Crisp, And Crumble?
 Cobblers, crisps, and crumbles are a little similar, but their toppings differ. Cobbler has a topping made from biscuit dough or cake batter, while crisp has a topping that's crispy and crumbly due to the oats used. Crumble, on the other hand, has an oatless crumble topping.
Can You Use Fresh Peaches In Pioneer Woman Peach Cobbler With Canned Peaches 
Yes, you can use fresh peaches in this recipe. However, using canned peaches is easier and faster. If you want to use fresh peaches in the Pioneer Woman peach cobbler recipe, you'll have to start preparing the peaches using the following steps: 
 Slice five large peaches and cook them with ¾ cup sugar, ¼ teaspoon salt, and a pinch of cinnamon.

 Cook for a few minutes until the sugar dissolves, allowing the filling to reach room temperature.

 Proceed with the recipe as above.
Should You Peel The Fresh Peaches When Making Pioneer Woman Peach Cobbler?
 You don't have to peel your fresh peaches as long as you'll give them enough baking time for them to be soft. However, it's crucial you know that peaches are often on the "Dirty Dozen" list of the most sprayed produce. So, remember to wash them well with vinegar water if you don't intend to peel them.
 If you opt for peeling, the best way to do so is by dipping them in boiling water for about 30 seconds, then plunging them into ice water to stop the cooking process, making the skin easily slip off. Once peeled, combine them with a teaspoon of lemon juice before serving to prevent browning.
How To Prepare Canned Peaches
You can use homemade canned peaches or commercial ones. If you don't have either of these, substitute them with fresh or frozen peaches. For frozen peaches bring them to room temperatures before baking. Otherwise, your peach cobbler will take longer to bake. 
You'll need to toss your sliced peaches with sugar as sugar binds to the juice coming out of the fruit. And despite being drained, sometimes more juice comes out of the peaches as they sit with sugar on top. After that, you can proceed with your recipe.
 But if your cobbler is still soupy, add a tablespoon of cornstarch to the sugar before mixing again. But remember, overly ripe fruits are often quite juicy.
 When Are Peaches In Season?
 Peaches are often harvested between May and August. That's why this dessert is usually a summer recipe. However, when you can use canned peaches, you can make peach cobbler an all-year-round dessert.
Can You Use Other Fruits?
 If you don't have peaches at hand, the best substitute to use is plum fruits. And in case you have excess fruits that you want to add to the peach cobbler, here are great substitutes when making the Pioneer Woman peach cobbler recipe: 
 Strawberries

 Blackberries

 Pears

 Cherries

 Blueberries

 Apples
Conclusion
Peach cobbler with canned peaches is a delicious summer dish and healthy dessert to wind down your meal. The Pioneer Woman recipe is specifically easy to follow and only calls for a few ingredients. You can also use fresh peaches. So, if you don't have canned peaches, feel free to use fresh ones or other great peach substitutes, and you'll still enjoy this refreshing summer treat.