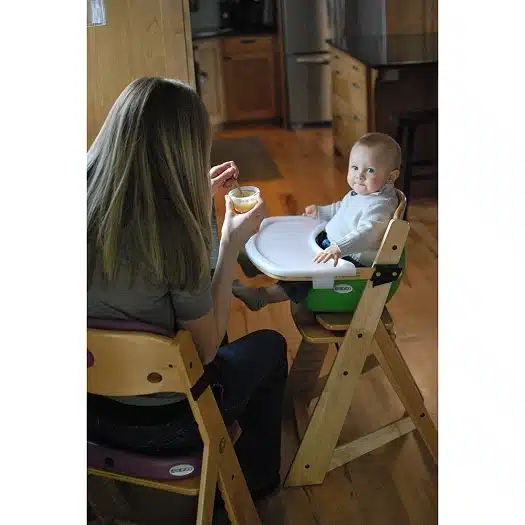 Sitting with the whole family during meal times often creates an impressive atmosphere for interaction and great memories. However, to make this a reality, a highchair is essential as it will enable you to raise your children to the dining table level or the same height as anyone else partaking in the meal. 
With the various brands of high chairs in the market, it can be a challenging hurdle to decide on the brand to go with. If you've already invested in elegant dining decor, or if you expect to have additional children and want to purchase something that will last, the temptation to choose the right high chair might be even greater.
Luckily, there are two popular brands of highchair brands that you can choose from, and that is the Stokke Tripp Trapp and the Keekaroo Height Right. It can be tricky to decide on which of the two brands to go for. However, this paper will give you much-needed insights on which highchair brand to go for.
Keekaroo Vs Stokke: Overview
Keekaroo High Chair Overview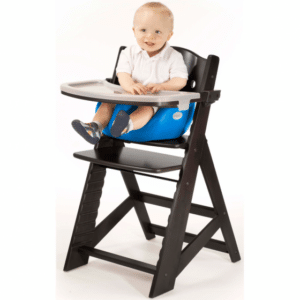 The Keekaroo chair is specially designed with rubberwood, which is both robust and ecologically beneficial. It combines the distinctive aspect of a wooden high chair with easy adjustability and modern styling.
The infant insert seat consists of a soft, squishy material that is impervious to liquids and simple to clean. The Keekaroo includes a hardwood tray with a BPA-free plastic sheet that can be removed for simple cleaning.
With the Keekaroo Height Right chair, the height may be swiftly modified in one-inch increments. It's simple to alter as your youngster develops. The Height Right was designed in collaboration with physical therapists to support healthy posture and keep youngsters comfortable while eating or sitting in a high chair.
Impressive Features of Keekaroo
As your child grows, the footplates and the seat can be easily adjusted

The chair has a stylish and a classic look

Convenient as it can withstand up to 250 pounds
What People Dislike About Keekaroo
Compared to the plastic chairs, Keekaroo is heavier

It can be challenging to clean the straps attached to the infant insert
Stokke High Chair Overview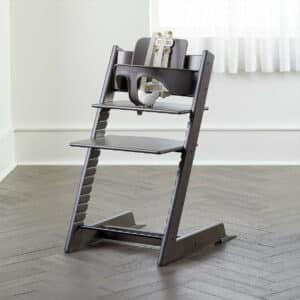 The Stokke is designed to integrate your baby into "the heart of the family" by including them in the mealtime experience from the start. You may purchase multiple sets to adapt this high chair for your children from newborn to a maximum weight of 300 pounds.
The Tripp Trapp chair's foundation is a solid wooden chair with an adjustable foot tray and seat made of beech or oak wood. It's simple and contemporary, with a quirky flair. It comes in 14 distinct colors and nine distinct cushion fabric selections, making it suitable for a wide range of design styles.
You'll need to get a Newborn Set for your Stokke if your baby isn't sitting up yet. The Newborn Set is a cushioned, reclining seat that attaches to the main Tripp Trapp chair. The seat features a toy hanging and can be modified to two different positions. It also has a five-point seat belt. It's suitable for babies up to 20 pounds.
The extra Baby Set ready for purchase converts the Stokke Tripp Trapp into a standard high chair for babies who can sit up alone (typically about six months). No tools are required to attach the front leg hole and back support part to the chair. 
To keep the baby sitting safe, a strap is offered. However, the Stokke Tripp Trapp is meant to be pulled up to the family dinner table; a tray may be purchased to separate the high chair from the table if desired.
Impressive Aspects of Stokke
A top-quality high chair that will last and grow with your child 

It comes in a variety of fabric options and color finishes making it easier for you to choose the right chair to match your décor.

It can also be used by newborns
What People Dislike About Keekaroo
The expense of add-ons adds up quickly, so you might want to hold on to purchasing the Newborn Set until you know how often you'll want or need to bring your baby to the table.
Contrast and Comparison Between Keekaroo and Stokke
The Stokke Tripp Trapp and the Keekaroo Height Right have numerous things in common, including:
Craftly designed with wood

Minimalist, classic look

Adjustable footrest and seat

It can be independently used with a tray or pushed to the dinner table

It can be adjusted to varying configurations as the child grows

It can support an adult weight of between 250 and 300 pounds
The Stokke Tripp Trapp and the Keekaroo Height Right are distinguished by several significant characteristics:
Stokke Tripp Trapp
The option for newborn babies may not be ideal as it is challenging for them to sit upright.

Available in 14 varying paint colors

No need for stool as it has attachment slides attached to the base
Keekaroo Height Right
Features a comfortable and a soft infant seat available in six varying colors

Everything you require for a high chair can be acquired during the initial purchase.
Why go for Keekaroo?
For infants, the Keekaroo Height Right offers a more comfortable seat. Because the Keekaroo has a comfortable seat, it's an excellent alternative for keeping restless babies safe and engaged while you prepare dinner.
Why go for Stokke?
The Stokke Tripp Trapp is available in a wide range of colors and designs to complement a wide range of home decor styles. Moreover, the Newborn Set allows for the seating of even the tiniest newborns at mealtimes.
Bottom Line
The Keekaroo Height Right is an excellent choice if you want a high-end yet classic-looking wooden high chair that will age with your child. You'll pay more cash upfront than for a plastic chair; however, this chair might last for generations.
If the notion of sharing a meal with your family around the table appeals to you, the Stokke can help you realize your goal from the moment you bring your baby home.
The Stokke Tripp Trapp is an excellent chair that will grow with your kid until maturity, even if you need to acquire add-ons to move it from newborn to baby to child.