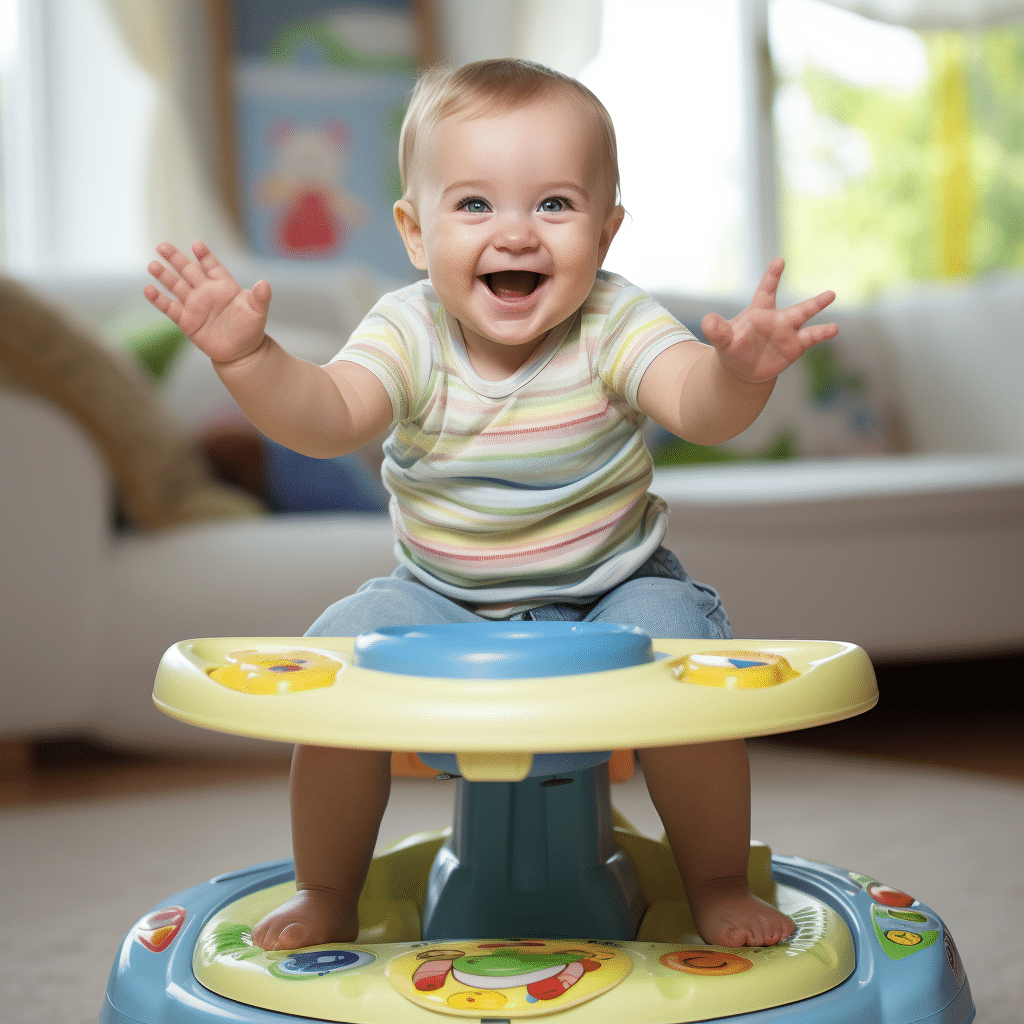 Exersaucer: When to Start, Stop, and Benefits

Exersaucer Start Stop Benefits The safety and comfort of a baby while playing is a concern for most, if not all, caretakers and parents. An exersaucer is a baby play center similar to a walker but has a round base and an elevated seat. As opposed to a baby walker, the exersaucer is stationary and therefore is considered safe for babies.
An exersaucer allows the baby to sit, stand, and rotate around it without moving. They are designed with a variety of toys, teethers, and simple, friendly activities coupled with baby-friendly musical tunes. Other features include; an easy-to-push button, height adjustments, and colorful, fun themes that stimulate the young ones developing imagination.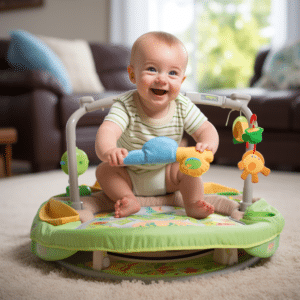 When Should Baby Start Using an Exersaucer?
Parents and caregivers get anxious over an infant's major milestone. Getting on an exersaucer is one of the moments that raises anxiety. The best time to introduce an exersaucer is after a baby has learned how to sit independently and can pull themselves up to stand on furniture or crib, typically around 5 months.
However, this varies from one child to another. Introducing an exersaucer before a baby achieves these milestones piles much pressure on their undeveloped joints and muscles which is detrimental to their health. The baby should only tiptoe; the feet should not be firmly grounded on the floor. Alternatively, you can place a pillow beneath the feet, and that way the baby is not entirely flat-footed or on tiptoes. 
Why You Should Not Introduce An Exersaucer Earlier Than Recommended
It limits a baby's development if introduced too early or used too often. A baby needs to learn how to roll, crawl, reach for items, Exersaucer Start Stop Benefits and even pull to stand. These developmental milestones cannot be achieved if an exersaucer is overused.

Its use can be detrimental to a baby's joints that can lead to inverted ankles, bowlegs, and knock knees. There is a risk of developing Container Baby Syndrome thus causing delayed sensory and cognitive development.  

 It limits a baby's need and ability to explore their surroundings as it keeps them in one place.

When used for a long period, it could lead to poor posture. An infant may enjoy the positioning in an exersaucer, but it is not a conducive pattern to learning walking. This positioning can lead to toe walking if the calf muscles are overstretched. A bad posture can lead to back and neck pain and eventually abnormal spine alignment.

Prolonged use can slow down a baby's locomotor development and may not assist in walking contrary to popular beliefs.

When overused, it could affect the baby's balance and movement patterns due to the altered center of gravity that remains forward.

An exersaucer is designed to hold a baby in an upright position and thus places the most weight on the legs and feet of the baby. This can add stress to the ankles and knees before they are fully developed for such weight.
When Do You Stop Using Exersaucer
The When the baby exceeds the weight and age limit, it is time to discontinue use. They When the baby gets to 2 years, weighs 25lbs to 30 lbs., or is tall enough (30 inches) to stand flat-footed, it is no longer safe or comfortable to continue with the device. The baby is considered to be well developed and has outgrown the exersaucer. At this age, the baby should be engaged in more rigorous activities without restraint. They will be kicking balls, running, jumping, and bustling with so much energy. If left unattended, these babies can tiptoe or wriggle and move around, thus increasing the risk of injuries and accidents.
Benefits of  An Exersaucer
It helps in the development of a baby's motor skills and strength.

The entertaining and interactive features in the exersaucer help with the baby's mental development and stimulation.

It provides a conducive, safe playing environment for the baby that minimizes the risk of injury.

When used appropriately and at the right timing, the exersaucer can help in developing core stability and balance.

It brings loads of fun through entertaining and interactive features.

It is safe and easy to use.

A good exersaucer has removable seat fabric that is easy to wash.

It helps the baby exercise the neck, leg, and back muscles.

It helps enhance visual development with improved hand-eye coordination.

It offers the caretaker some time off for chores or much-needed rest. As the baby plays on the exersaucer, you can grab that coffee. As you do that, do not let your eyes off the baby.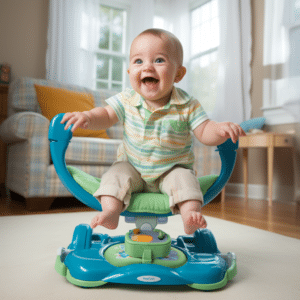 Safety Precautions While Using an Exersaucer
Limit use to 15-20 minutes per day. Keep interacting with the baby as they use the exersaucer.

Wait until your baby can hold their head up and pull themselves up. The baby must learn to sit before introducing the exersaucer to prevent them from assuming poor sitting posture.

Never leave a baby unsupervised.

Allow your baby enough floor time. You can remove the toys from the exersaucer and put them on the floor for the baby to play with.

Consult a physical or occupational therapist before using with a child with developmental delays such as cerebral palsy and Down Syndrome.

If a baby has an orthopedic condition such as dysplasia, and a club foot, you need to consult their doctor before using the Exersaucer play center.

When buying a second-hand exersaucer, ensure it is safe. Confirm that there are no missing parts or cracks.

Provide your baby with enough tummy time.
Exersaucer Start Stop Benefits, the safety and happiness of your baby are more important than the benefits of any baby play item. The exersaucer is a great addition to a baby's room, but it needs to be used carefully. Make sure you buy an exersaucer that meets safety requirements. You shouldn't use it for longer than what is suggested because it will hurt your baby's growth. By giving the legs more weight compared with the upper body can handle, an exersaucer could turn the usual development process on its head. This would cause milestones to be missed.