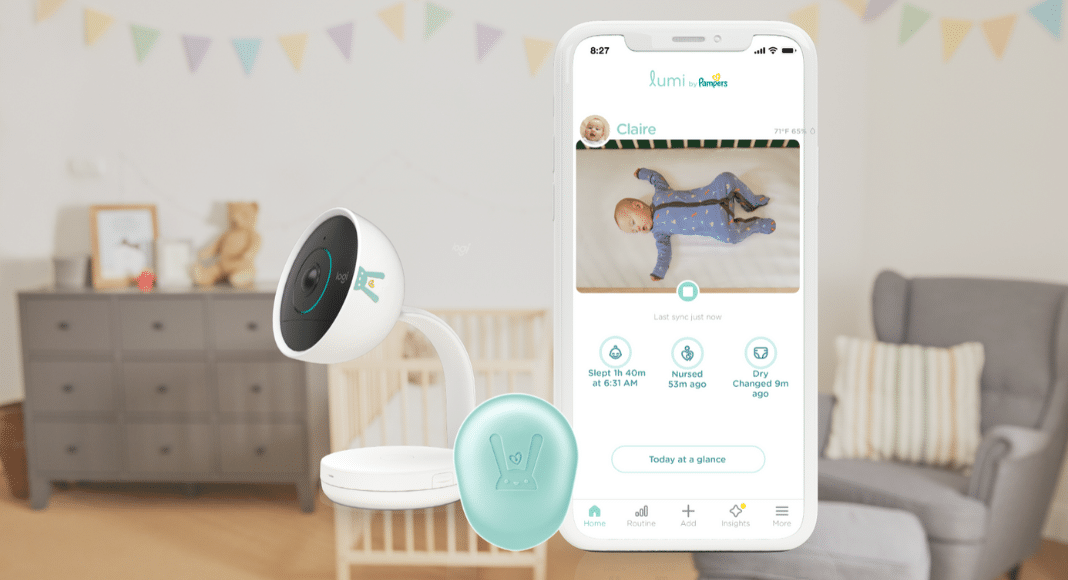 For many parents, the idea of a wearable baby monitor that would track their child's oxygen saturation, heart rate, breathing rates, and movement sounds like a godsend. It can allow parents to rest easier knowing they will be immediately notified if something seems wrong with their child's health. 
In fact, this is exactly how connected some companies are pitching "smart" baby monitors to new parents. And speaking about baby monitors, you cannot go wrong by mentioning Lumi by Pampers and Owlet. 
The two products have dominated the market to the extent of initiating a debate about which is the best. While both brands provide a comfortable monitor for your child, there are significant differences.
It's a hard choice to make between the two. However, we're here to help you with that. In this review, we'll investigate the key features of both Lumi by Pampers and Owlet to enable you to make an informed decision. 
Lumi by Pampers vs Owlet
 Lumi by Pampers
Lumi by Pampers is a newly released product that aims to help parents keep track of their baby's health. It is a smart diaper with sensors that monitor your baby's sleeping patterns, heart rate, and movements. The company claims that it will alert you if there is any problem.
Still, it includes an all-night wetness indicator that lets you know when your baby needs a diaper change and a soft, breathable liner that helps keep the baby dry and comfortable all night long. The diaper also has a soft, cloth-like outer cover that feels like real clothing. 
The waterproof inner layer keeps wetness away from your baby's skin while the ultra-absorbent core wicks away moisture. 
What Else Makes Lumi So Special?
Lumi by Pampers is the world's first full-sheet diaper made with advanced technology that absorbs and locks wetness away. Lumi's advanced design means fewer changes, less bulk, and a better fit for the baby than other diapers.
The unique Lumi system includes:
Lumi's advanced absorbent core locks in wetness better than before, helping keep the baby dry for 12 hours.
The innovative elastic waistband keeps Lumi in place from the top to the bottom of your baby's tummy, so you can rest assured knowing they are comfortable and well secured.
The unique locking waistband helps prevent leaks around the sides of your baby's legs with an elasticized leg cuff that expands to fit over both chubby thighs or slim legs. And Pampers Dry Max Technology gives you a more absorbent diaper that keeps your little one dryer longer than ever before!
 Owlet
Owlet is a wearable baby monitor that helps parents monitor their baby's heart rate and oxygen levels through a secure app. It also tracks your baby's sleep habits and insights to help you get your little one on the most restful sleep schedule possible.
The Owlet Smart Sock uses pulse oximetry technology to measure your child's heart rate and oxygen saturation levels while they sleep. The sock also monitors temperature using infrared light and has an alarm feature. So you'll be notified if your baby stops moving for an extended period or has a spike in heart rate or blood oxygen level. 
It is generally a sensor pad that you wrap around your baby's foot, which connects to an app on your smartphone. The app helps you track your baby's breathing patterns and sleep and temperature levels.
Similarities Between Lumi by Pampers and Owlet
Both the Lumi by Pampers and the Owlet are wearable devices that monitor your baby's heart rate and oxygen level. However, they're different products that suit different needs. Here are some of their similarities.
They both have many features in common, but what makes them different is their design, size, weight, and price.

Both of them are meant for babies between 0 to 6 months old.

They also have a notification system that alerts you if your baby stops moving for some time.

Both products are portable and can be used at home or when traveling with your baby.

They both use Bluetooth technology to connect with your smartphone or tablet device so that you can monitor your baby's activity from anywhere in the world.
Differences Between Lumi by Pampers and Owlet 
Both products are designed to make parenting easier by giving you information about your baby's health. They can help provide peace of mind during those early months when babies wake up frequently or have trouble sleeping through the night.
However, they do have some differences. 
The Lumi by Pampers is worn like a regular diaper and includes an insert that has been specially designed for comfort and protection (it also comes with a disposable liner). In contrast, the sock from Owlet is worn on top of a regular sock — no special insert is included (but one is sold separately).

Owlet comes with a base station that connects to the internet via Wi-Fi or Ethernet connection, while Lumi has no base station — it connects directly to your Wi-Fi network to check on your baby from anywhere. 

With Lumi, you can use it as a standalone device or alongside an existing baby monitor system. 
Lumi by Pampers vs. Owlet, Which Is Better?
Pampers has been making diapers for over 70 years, so it's no surprise that they've also created a baby monitor that monitors your child's movements and heart rate via a sensor placed in their diaper. 
This lets you check in on them through an app while they're sleeping. It also gives you peace of mind knowing that their diaper is clean and dry since it uses disposable liners that signal when change is needed.
Owlet offers another option for parents looking for a baby monitor; however, its main focus isn't on monitoring your child's sleep patterns but on their health. The Owlet sock includes an infrared sensor in each foot that tracks your baby's heart rate and oxygen levels and sends data to your mobile app via Bluetooth connection. 
Both products are super helpful but very different from each other. But which is better? 
Each monitor has its pros and cons, but it all comes down to your personal preferences.
Bottom Line
Both the Lumi by Pampers and the Owlet are great devices, but they are at different price points that make them suitable for different families. Ultimately it is up to you to determine which device best fits your needs from the information provided here. Both devices have pros and cons, so the choice ultimately depends on your preferences.